Girls Softball Prepares for Season
The Quartz Hill High School softball season is around the corner. The girls have been practicing every day after school in order to play to the best of their abilities. During pre-season, the softball team played in multiple tournaments, giving the team an idea of their strengths and weaknesses.
Although the softball season has not yet officially started, the girls' junior varsity softball team recently played in the AV tournament. "At the AV tournament, we faced Chatsworth, Vasquez, Lancaster, and Canyon, and we walked away with three wins and one loss to Canyon. Regardless of our loss to Canyon, we worked very hard and we are very proud of what we achieved at the tournament," said Hailey Johnson, a second year softball player.
The conditioning of every sport depends on the sport's intensity and difficulty. "Softball is a moderately intense sport because it is not as demanding as soccer, but it is also not as relaxed as golf. The conditioning is specialized to our sport. We usually do sprints and short distance running to make us faster around the bases," said Abby Andrade, a sophomore at Quartz Hill High School.
In order for a team to be fierce out on the field, they have to grow a strong bond with each other. "Our team works very well together because we have a great bond, and we treat one another like family. We talk a lot on the field and we cheer everyone on. If we do not have communication, then our entire team would fall apart. Outside of school, we also hang out as a team and have sleepovers to strengthen our connections," said Abby Andrade.
The softball team at Quartz Hill High School is composed with many skillful girls.  However, there is always one player that pulls the whole team together. "I think that this year, our most valuable player on this team will be Hailey Johnson," stated Andrade. "Not only is she an amazing softball player, but she also has a great attitude on and off the field, which really benefits our team."
The Quartz Hill High School softball season will officially begin on March 27th, 2018. The girls start the season off by playing against their rivals, Knight High School, at a home game. Hopefully, their season runs smoothly and the softball team can achieve its goals.
About the Writer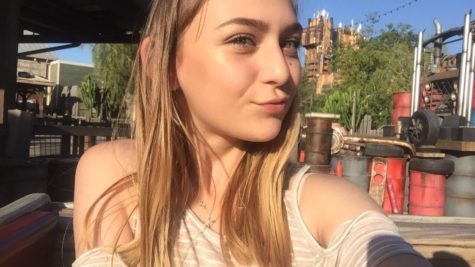 Natali Josevska, Staff Writer
Hello! My name is Natali Josevska, and this is my first year doing the QHHS Ubiquity. In my free time, I enjoy shopping, watching Grey's Anatomy, and spending...