Kim Jong Un Fixing Relations with Kpop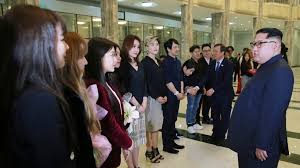 Hang on for a minute...we're trying to find some more stories you might like.
On Sunday, April 4th, Red Velvet and other South Korean singers such as Baek Ji Young and rock band YB performed at the North Korean concert, "Spring Comes," in Pyongyang. Red Velvet is one of the most popular Kpop groups in South Korea with more than 26 million followers on Instagram. When the Kpop group arrived at the East Pyongyang Grand Theatre and performed, the audience waved their hands from their seats and gave them a thundering standing ovation. The visit from the Kpop group was a gesture of diplomacy between the two nations.
However, the North Korean government cuts off its citizens from what they call is "decadent capitalism," referring to Kpop in South Korea. To be caught distributing or watching anything related to Kpop could lead someone to being sent to a prison camp or executed, which is why the holding of this event is bizarre. When North and South Korea hosted events of cultural diplomacy in the past, the South Korean artists, such as Shinhwa in 2003, received a negative response from the audience, including looks of disapproval. Perhaps because that's how they were told to act. Now, they were told to act differently, and the question in everyone's mind is: "Why?"
The audience at the "Spring Comes" concert on April 4th was 1,500 members of the Pyongyang elite, who are loyal to President Kim Jong Un, along with President Kim Jong Un himself, who stated that he had to clear his schedule in order to watch Red Velvet, a group he is said to be a big fan of. After their performance, he shook hands and took a group picture with them.
Kim Jong Un said he was "deeply moved" by the performances and even asked to hold another event in Seoul in the autumn, similar to the Pyongyang event, according to South Korean media pool reports.
Some believe this is Kim Jong Un's way to establish relations with South Korea again, but there are also other theories. President Kim is supposed to be meeting with President Moon, South Korean President, on April 27th and with Donald Trump in May. Many observers believe he is trying to weaken international sanctions and buy time to further advance his nuclear program. However, no one yet knows for sure what is going on in President Kim's mind but him.