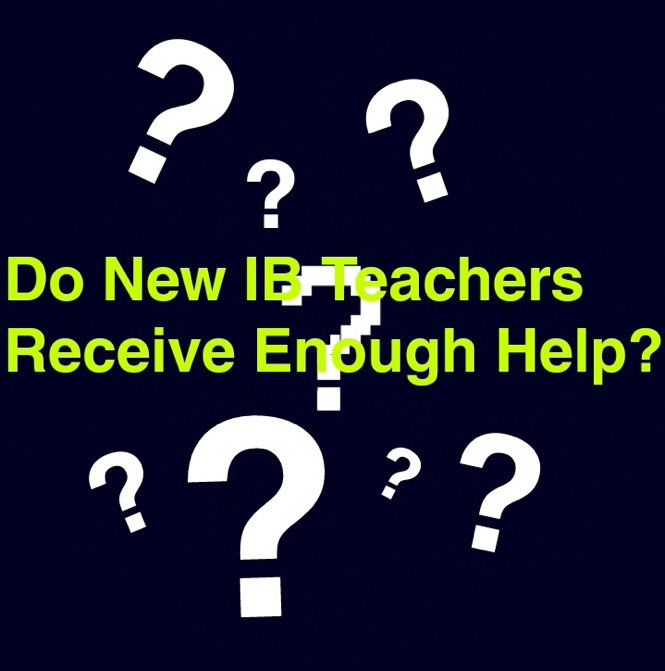 Every school must hire new teachers. Whether that may be because many of the older teachers are retiring or a major injury has taken place, new teachers will always be inevitable. This is the case of Quartz Hill High School; especially, in the International Baccalaureate Program.
The International Baccalaureate aka the IB Program at QHHS has been going on for many years now. The majority of the IB teachers are no stranger to the IB process and have managed to perfect their personal style of teaching. However, the same cannot be said about the recent additions to the IB family.
The IB program is a rigorous system of difficult classes, extracurricular hours, and many, many essays. A key part of any class is the Internal Assessment, or the IA. Internal Assessments are reflective essays or audios that IB students must write in the majority of their classes. Usually, this essay will make up a substantial portion of their overall IB exam grade in May, with the general percentage being 20%. Thus, IB teachers and students work hard to make sure that their Internal Assessments are perfect because they are included in the final IB exam. However, these IAs are foreign to teachers that have never taught IB before, and they will definitely struggle with all of the rules and components.
So do new teachers receive adequate help when it comes to such projects?
Unfortunately, the answer may be no depending on some classes. Many IB students and teachers, feel as though new teachers are just thrown into the water and forced to teach themselves how to swim. Of course, there are workshops and seminars that IB teachers must attend in order to get familiar with the curriculum and all of its objectives, however, this is not always enough for new IB teachers. Most of the time, they are forced to seek out information through online blogs and Facebook groups or reach out to other teachers they had met at summer workshops.
This year, the IB Math SL class got Mrs. Sayles as a new teacher. This was her first year teaching an IB course and many of the students can attest to the lack of assistance she received in that class. In fact, the Internal Assessment became a significant hurdle because it was her first time teaching an IB course while not receiving much help. However, she still worked hard and helped her students write great Internal Assessments in preparation for the May exam. According to Triveni Patel, an IB Senior in the class,  "Mrs. Sayles did a great job under the circumstances she was handed." Triveni is not the only one to think this. Other students in the class would agree that she did an amazing job in preparing them for the IB exam; however, more support would have been beneficial.
The IB program also got a new Spanish SL teacher for the IB seniors. This is Señora Vital's first year teaching Spanish SL in addition to her Spanish 1  and 2 classes. Similar to the other IB teachers, Sra Vital did get as much help. She did receive information from Señora Rocca, who was the IB Spanish SL last year, and Madame Andrews-Dent, the French teacher. She also created a Facebook page with many IB Spanish teachers from around the world to help her stay on track with the curriculum. "I think in the case of Señora Vital, she did an exceptional job dealing with the resources she had and the challenges she faced," Adam Ibrahim, a senior IB student explained, "She did a lot of extra communication on her own, so although it might have been rough, she did a great job getting that extra support."  The students also said that they had faced challenges with Vital with getting all the information needed for the IB Spanish test. Overall, Señora Vital did a pretty good job in following the curriculum for the IB test and hopes to improve her teaching next year.
Another class that has a new teacher is IB Music. It is now taught by Mr. De La Vega, or DLV as most students call him. Although this is his first year teaching IB Music, Mr. DLV did a good job teaching the curriculum due to his prior knowledge as a former IB student. The only problem he struggled with is that his prior knowledge of the curriculum is a bit outdated at this point, and Mr. Cassady had no knowledge relevant to IB Music. He also faced the challenge of teaching many classes in one period since there are few IB Music students. Fon Konngam, an IB Music student, states "Sure, we have to prep for the IB music exam, but the class was more about learning for the sake of knowing rather than memorizing for an exam." Fon states that there wasn't any tedious work involved in this class at all, but that's because there isn't really work for music. After all, he also has knowledge in teaching classical music.  Fon also continued, "Had DLV been properly trained as an IB teacher then maybe there would be more focused areas to learn, AKA teaching agenda, but that would just be no fun." Many students believe Mr. DLV has done a good job in teaching the curriculum.
Although many of the new IB teachers did not receive as much help as they needed their first year, they still manage to teach the curriculum and help prepare the students for the IB tests in May. Both Mrs. Sayles and Señora Vital did a great job in teaching the IB curriculum for the first time. They were able to find a way to confront the challenges and help students with the Internal Assessment.  Mr. De la Vega also found a way to teach his IB Music students through knowledge as a former IB student. All three teachers found a way to overcome the obstacles as new IB teachers.