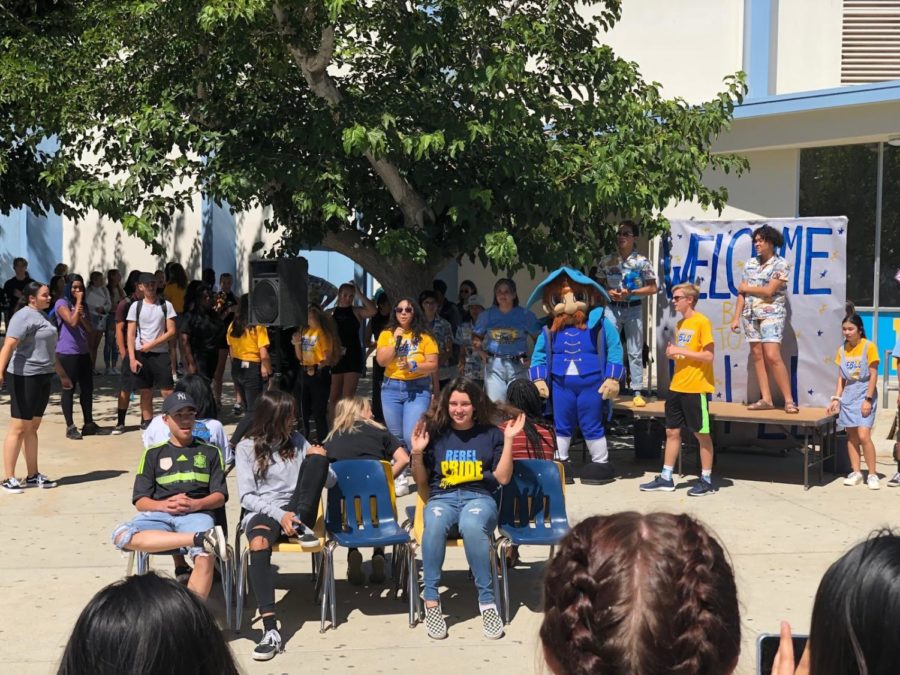 On August 16th, Quartz Hill's ASB organized the Welcome Back Rally to properly greet the incoming freshmen and returning students. The rally took place outside the big gym during both A and B lunch. An annual ASB event, the rally was meant to get the students excited about the upcoming school year by showcasing the diverse groups on campus.
To kick it off, the drumline performed classic QHHS beats, drawing the attention of student passer-byers. Immediately after them was the QHHS band, who played a few songs before giving way to the school's dance teams. Both the Quartz Hill dance team and the hip hop team executed a beautiful choreography and were met with outstanding applause from the crowd. Next, they played a fun and thrilling game of musical chairs with a twist to make the activity more intriguing for the spectators. As the rally drew to an end, Quartz Hill High School's new mascot, Johnny Rebel, made a guest appearance, running around and greeting crowd members. 
Though the Welcome Back Rally was meant as an event for the entire school, it was primarily targeted towards the new freshmen. It was the perfect opportunity to encourage the freshmen class to be involved in the many activities that the school offers while fostering an early sense of school spirit. Colin Culver, a sophomore ASB member, said, "The purpose of our Welcome Back Rally is to start the year right. We want to raise the student's school spirit and we want to encourage the freshmen class to be more involved in school activities." 
As it turns out, it seems the rally was a success for ASB. Most of the audience that spectated the rally consisted of the Class of '23. The freshmen were very energetic and enthusiastic throughout the whole event, making it clear that they were excited for the 19-20 school year. Jonah Knitell, the VP of the Junior class, is quite optimistic about this year's freshman class. He says, "I have a good feeling about this year; this year the freshmen seem to be more interested in participating in events and they have more school spirit than the freshmen last year. I think that this will be a great year for the class of 2023."
Through the rally, ASB also hoped to inspire more freshmen students to join the leadership class. There are currently 10 freshmen involved in ASB, a surprisingly large amount compared to last year's numbers, but still short of what the student government needs. The positive feedback of the Welcome Back Rally, however, is almost a guarantee that the governing body will gain a few new leaders. ASB members put in days of planning and dedication to make this rally a memorable one for the incoming Class of '23. Hopefully, the Welcome Back Rally will also be successful in convincing the students to get involved in school activities.