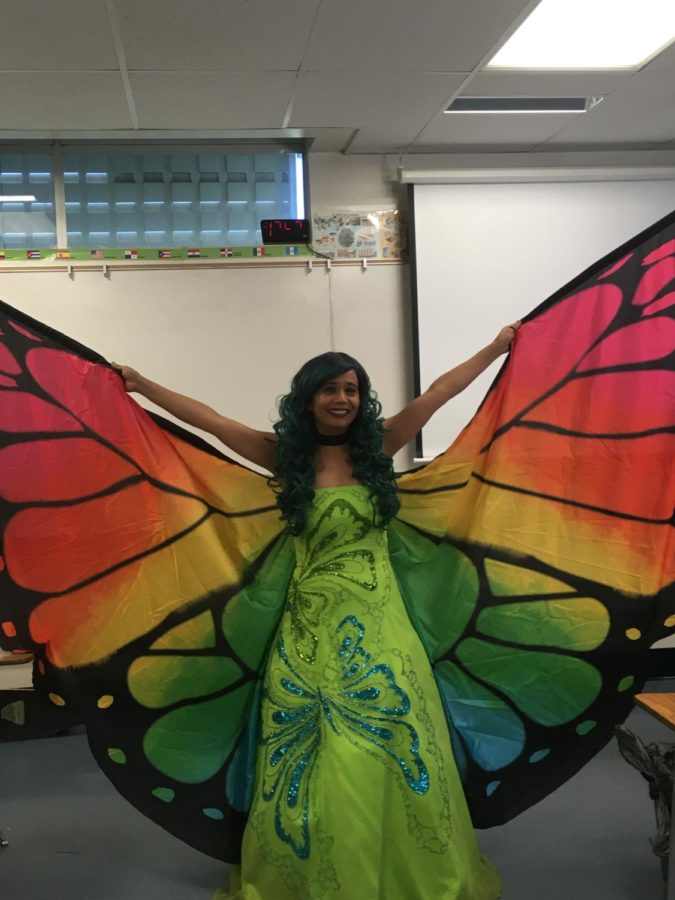 Melissa Canales
As arguably one of the more popular holidays of the year, Halloween brought with it many fond memories that students can remember for many years to come.
Though Halloween landed on a Thursday this year, Quartz Hill's students did not hesitate to come to school decked out in their costumes. Commonly seen wandering the campus were several Winnie the Poohs, Harley Quinn's, Jokers, and the ever timeless angels and devils. Some people, though, took Halloween as an opportunity to show up in more unique outfits. Among the year's most creative looks were a couple of "wacky waving inflatable tube men" – you know, the car dealership guy – and a YouTuber apology video, complete with a box of tissues for his viewers. Teachers also participated in the fun: Senora Reyes came to school in a beautiful butterfly costume, sharing with students throughout the day that she had actually paired up with her husband who had dressed as a caterpillar at his job.
While students planned their nights of trick-or-treating or scary movies, ASB also prepared a little something for the school's attendees: its annual Haunted House. Hosted in the big gym, the Haunted House was open Thursday and Friday during both lunches, giving students time to stop by for a thrill. ASB members were used as human props, wearing life-like bloody makeup and dressing as haunting characters.
When talking about the Haunted House, Brooke Faulk, a junior at Quartz Hill, commented on the lack of scare factor. In her opinion, the straight-path set-up of the Haunted House prevented the experience from having an eerie feel to it, since there was no place for students running the event to hide and perform jump scares. Furthermore, Faulk reported that it was only at the end that she was even slightly taken by surprise as five student body members lay on the floor to give students one final scare. "The entire gym was so dark, I couldn't see anything. [ASB] could've really used that to their advantage, but I don't think they did a good job at it this year."
Halloween, though, was not the only holiday taking place these past few days. For the Latino community at school, Dia de Los Santos and Dia de Los Muertos, November 1 and 2 respectively, were equally, if not more, significant to October 31. Spanish classes took some time sharing about the purpose of the holidays and spreading a little knowledge about Hispanic culture. Over the weekend, families who participate in these days met up with their families and honored the memory of their deceased relatives. A few of whom shared such moments on their social media accounts.
The final few months of the year always go by in the blink of an eye. Now that spooky season is over, it is time to start focusing on the next major American holiday: Thanksgiving. Good luck trying to do that, though, while Christmas music blares from every store you walk into.