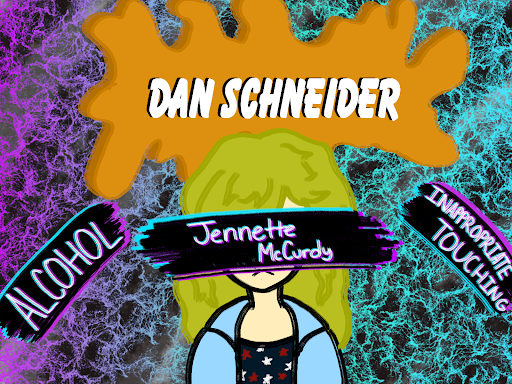 Ashlee Guardado
A large portion of your childhood memories is likely riddled with Sam and Carly, spaghetti tacos, and random dancing. If they aren't, I feel sorry for you. Granted, maybe you were more of a Drake and Josh kind of kid, or even Zoey 101 or Victorious! The list of iconic Nickelodeon shows goes on, and they all have one thing in common: Dan Schneider. 
For those of you who are lucky enough not to know who Schneider is, he's the guy that directed all of your favorite TV shows as a kid; and now, he's about to be the guy who single-handedly ruins your childhood (hate the message, not the messenger).
In recent years, Schneider has been criticized for his inappropriate behavior with female child actors both on and off-screen. This all came to a breaking point when iCarly star Jennette McCurdy became active again on social media and recently published her memoir entitled, "I'm Glad My Mom Died." In said memoir, McCurdy relays the trauma she faced as a teen, a large portion of this being her firsthand experience with director Schneider. 
In the hit TV show iCarly, 15-year-old Jennette McCurdy plays Sam Puckett, the sassy best friend of Carly Shay. In the show, Sam frequently hints at a difficult relationship with her mother, often used as a joke in episodes. Sam is also known for being obsessed with food, constantly eating or beating people with her "butter-sock." After McCurdy came out about suffering from mental health issues, specifically an eating disorder, fans began discussing her character on iCarly, seeing the parallels between McCurdy's real life and on-screen life. In her memoir, McCurdy dives into dark topics of her childhood and growing up with an abusive show-mom who forced her to work despite these concerning emotional issues. 
All of this comes back to relate to Schneider in the fact that he was very close with his stars on set. The director likely knew of all these issues and, as some cruel punishment, made young McCurdy play this role anyway, knowing her mom wouldn't let her quit even if she wanted to.
Schneider clearly knew his abuse of power, as he apparently offered a three hundred thousand dollar "gift" to McCurdy after her show Sam and Cat got canceled. In her memoir, McCurdy reflects, "Nickelodeon is offering me three hundred thousand dollars in hush money to not talk publicly about my experience on the show? My personal experience of The Creator's [Dan Schneider] abuse?"
The Nickelodeon star went on to discuss other inappropriate behavior that Schneider got away with, recounting times he asked for "massages" or even texting the stars after hours. Another concerning theme within Schneider's shows was brought to light by fans on Reddit and Twitter threads. When rewatching some of Nickelodeon's shows as adults, fans noticed frequent jokes or shots in which young female stars were hinting at sexual or otherwise inappropriate behaviors. 
Sadly, our favorite shows are now almost unbearable, knowing the abuse these actresses faced. Schneider resigned his position at Nickelodeon following verbal abuse rumors; however, he has yet to be tried or arrested for the horror he put these young women through. Hopefully, with McCurdy's brave new memoir, we can watch as justice begins for these kids.