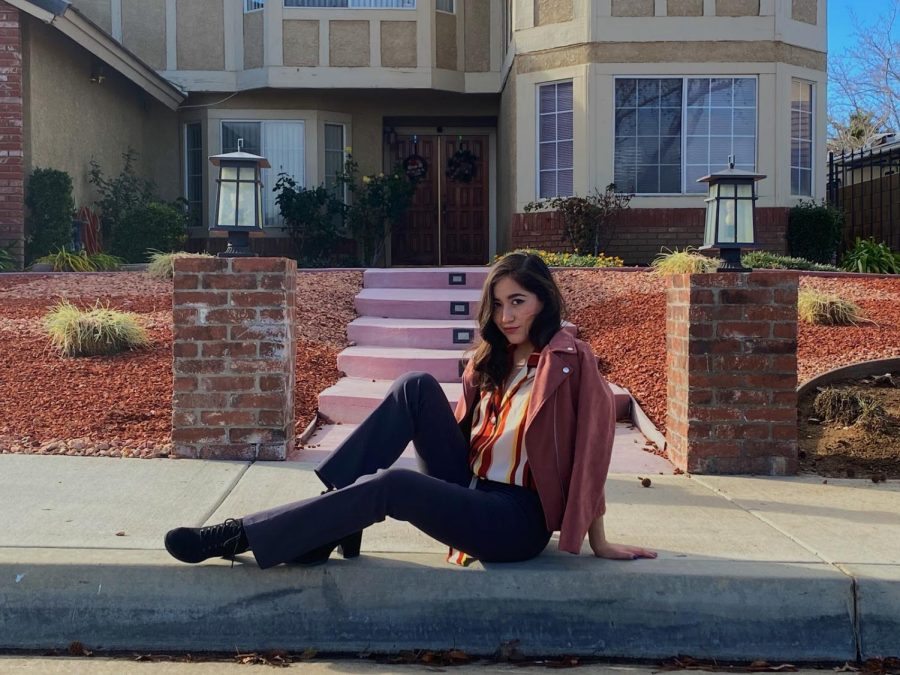 In one word, I describe myself as colorful. I adore watching sunrises and sunsets, reading books by candlelight, going on picnics with the stereotypical plaid red blanket, drinking unholy amounts of coffee, and walking around barefoot. During the months of voluntary house arrest, I've done all of these, and I hope to do more. This year, I am the Editor-in-Chief of
The Ubiquity
, and I am counting on my passion for journalism and a stubborn amount of determination to help me do right under the position. You didn't ask about random facts about me, but you're going to get them anyways: "glorious" is my absolute favorite word - it rolls off the tongue so elegantly; purple, the hue for royalty, is my favorite color, with red and yellow coming in second and third, respectively; my name, Melissa, means honeybee, and I don't think anything could fit me quite as well. I hope to create and oversee the production of articles that will encourage you to tap into the passionate, involved person you always had inside of you. Talk soon!
9.28.20 Update
Hey! So it has been roughly a month since I last checked in but, honestly, I wouldn't say you've missed too much. All my time has been divided between schoolwork, college applications, my actual job, and extracurricular activities. I miss having the luxury of a free afternoon to read a book or watch TV. The worst part of all of this, though, is that even when I know I've been productive, there is no tangible evidence of my work. Everything I do for school is virtual now - there is no physical test that says "A+" and, frankly, it is getting to me. So, I bought myself a pink planner to help me visualize my accomplishments. I need
something
to keep me going, and if that something is going to be a satisfying checkmark next to a completed task, then so be it.
Melissa Canales, Editor in Chief
Dec 11, 2020

So, the 2020 Elections Happened

(Story)

Nov 08, 2020

¨Charlie Brown¨ Holiday Classics Move to AppleTV+

(Media)

Nov 08, 2020

The LA County District Attorney Race

(Story)

Nov 08, 2020
Oct 16, 2020

There's More to Elections than Just the President

(Story/Media)

Oct 07, 2020

Online Interactions

(Story)

Sep 22, 2020

In the Spirit of Autumn

(Story)

Sep 05, 2020
Sep 04, 2020

Race Relations in NYU

(Story)

Aug 26, 2020
Aug 26, 2020

Class of 2020: Next Steps

(Story)

Mar 08, 2020

Beware: AP Tests Ahead

(Story)

Nov 19, 2019

Spooky Season at Quartz Hill

(Story/Media)

Oct 22, 2019

Final Thoughts on Homecoming

(Story)

Sep 16, 2019

Battling Back-to-School

(Story/Media)

May 09, 2019

AVUHSD Board of Trustees: Recall and Why

(Story)

May 11, 2018

Peer Pressure at Quartz Hill

(Story)

May 04, 2018

Homework Overload!

(Story/Media)

Apr 21, 2018

Modesty: Not Always a Virtue

(Story/Media)

Apr 06, 2018

Report Card Payday

(Story)

Apr 01, 2018

Handball: Revived at Last

(Story)

Mar 12, 2018

The Future is Now: Plan for College Early

(Story/Media)

Feb 26, 2018

Are We the Loneliest Generation?

(Story)

Feb 21, 2018

The Structural Flaw in QHHS French

(Story)

Feb 11, 2018

The Makeup Madness

(Story)

Jan 27, 2018

Get a Grip on Your New Year's Resolutions

(Story)

Dec 08, 2017

Culture Clashes in Spanish Classes

(Story)

Nov 27, 2017

Should People Go Vegan?

(Story)

Oct 15, 2017

Competitive Classes: A Pro or a Con?

(Story)

Oct 08, 2017

Can QHHS Students Beat the Heat?

(Story)

Sep 15, 2017

Brawns vs Brushes: The Superior Extracurricular

(Story)

Sep 01, 2017

Should Teens Be Paid to Do Chores?

(Story)

Aug 10, 2017