QH Prom Quotes
On April 22, Quartz Hill's Prom was held at the Los Angeles River Gardens. Here are some quotes from QHHS students about Prom:
1. "It was a place of broken dreams (stepped on dresses, bad music) and yet a perfect night for each individual in their own way." (Michael Huynh, Senior)
2. "Prom was really fun because I got to make memories with my closest friends." (Karina Patel, Sophomore)
3. "One of the funnest nights I've ever had!" (Zachary Gunner, Sophomore)
4. "I loved the night in general – dancing with my baby girl, eating dinner with her, and just chilling with her on the way there and back. It was a night to never forget." (Christian Gonzalez, Junior)
5. "Well the food was amazing and the DJ played all of the music that the student body wanted to listen to. So I would say this year was a major success!" (Victoria Ronga, Senior)
6. "This night couldn't have been any better. Prom was, as most would say, lit." (Christian Ferrandino, Junior)
7. "My amazing baby girl in her dress and her being there with me, made Prom absolutely breathtaking." (Bryce Muir, Junior)
8. "Better than I could have ever imagined." (Montese Gutierrez, Senior)
9. "Prom was really fun except for everyone stepping on your feet and random guy's nasty sweaty backs rubbing up all on you, but overall dancing and hanging out with your friends is a great experience that everyone should try." (Janan Bermani, Senior)
10. "It was way more fun than I imagined and I wish I could go AGAIN!" (Megan Trujillo, Senior)
11. "The rave was alright and the only thing that sucked was I lost a toe." (Nikita Tyagi, Senior)
12. "I had so much fun! The food was great and the venue was beautiful. Also the caricature artists were so cool." (Emily Dipressi, Senior)
13. "Prom was a once and a lifetime experience that I really enjoyed." (Julieand Nery, Senior)
14. "Prom this year was truly an unforgettable experience. Quartz Hill ASB never ceases to put on a good show and that was evident in the beautiful venue and impeccable planning of this event." (Kevin Petersen, Senior)
15. "It was super fun, but the food was nasty and it was super crowded and hot. Overall, it was a fun experience!" (Natalie Gutierrez, Sophomore)
16. "The food was super good and the venue was really pretty and overall it was fun!" (Anmol Kaur, Senior)
17. "I thought Prom was an incredible experience that I definitely won't forget." (Rayen Strasser-King, Junior)
18. "Most AMAZEBALLS Prom. I can't believe we put QH on the map! Quartz Hill really knows how to turn it down." (Victoria Guenther, Junior)
19. "Prom was so much fun and the venue was beautiful!" (Triveni Patel, Junior)
20. "It was a fun experience, [I] can't wait for next year!" (Stephanie Kailany, Sophomore)
About the Writer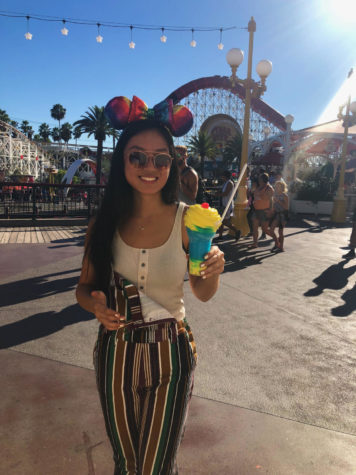 Tiffany Tran, Multimedia Editor
Hi! My name is Tiffany Tran, and I am one of your ongoing staff writers for the QHHS Ubiquity.  I mainly joined this class to be a better version of my...