Chalk Art: Emily Miller
The Chalk Art Contest of 2017 blew expectations out of the water. Students devoted time to their masterpieces before and after school, as well as during snack and lunch. Students who were not participating in the contest cheered their friends on from the sidelines. After school on Friday, students crowded around the artwork, impressed at the talent in Quartz Hill's artists.
Emily Michelle Miller is one of those artists. She is currently a junior, and her favorite subject is Calculus. Even with her heavy load of classes and extracurriculars, Emily made time to show off her skills at the Chalk Art Contest. When Emily is not drawing, she is running or playing with her cat, Kitty. She aspires to have a successful life and to own an art studio of her own.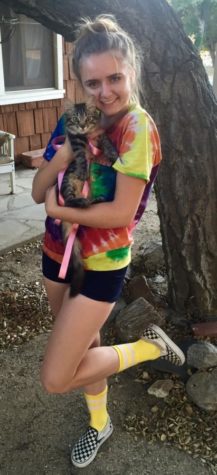 For the contest, Miller drew an original piece, titled "The Wonders of a Sad Night." She drew tree people and what she calls "a different version of Van Gogh's 'Starry Night.'" When asked to describe her piece, she said, "I drew an intricate design of a girl's face with the texture of a tree. On the left side of the drawing, there is a shadowed tree with the face of another girl on it, and it is wrapped with a green snake. The silhouette of trees in the background adds depth. Overall, it is aimed to be a mysterious piece of artwork." Emily certainly made sure that it was mysterious. Students oohed and ahhed over her artwork and throughout the day, and Miller received lavish praises.
Miller used chalk pastels to create her piece. She used black, grey, and white for her bases, and she used different shades of blue, yellows, purples, and greens to add a pop of color. She also used various shading and gradient techniques to get the perfect blend of the various hues.
Of course, when she was not drawing, she also took the time to appreciate the other pieces of art. She said, "One of the other chalk art pieces that I am fond of is the Transformers one by Evan Tumber." When asked to sum up her entire experience, she stated: "The Chalk Art Contest has always been my favorite activity that has been put on at Quartz Hill. This year, it definitely met my expectations of how fun it would be."
Be sure to check out the various chalk artwork in front of the library! Until then, we will eagerly await next year's Chalk Art Contest!