Devastating Loss for the Rebel Football Team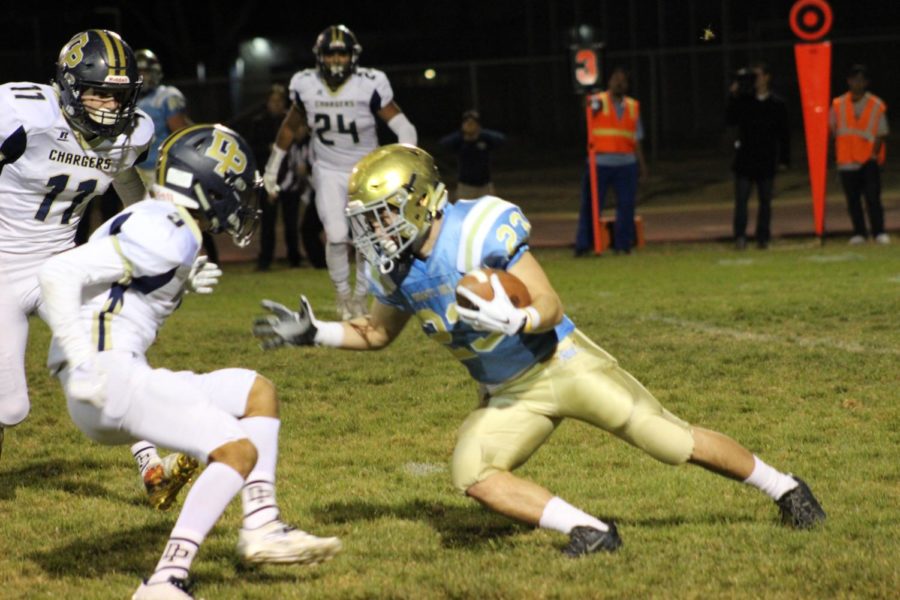 Saturday, December 9, 2017 marked the last Rebel football game of the season.  The Quartz Hill Rebels (13-1) faced off against the Bishop Diego Cardinals (13-1) in an away playoff game. Unfortunately, the Cardinals defeated the Rebels in a blowout: 41-7.  The game was the championship match for the CIF Division 3-AA tournament.  The location of the game was changed two days prior to the match because of poor air quality from recent fires near the Cardinals' home school. At their new location, Cal Lutheran, the two teams kicked off at 6:00 PM and fought their way to a Division 3-AA championship.
The Rebel football team won their previous CIF Championship game against Dos Pueblos at a home game. This victory led them to their next opponent: Bishop Diego. Entering the match, the Rebels and the Cardinals both had the same overall team record, 13-1. But, by the end of the game, the Bishop Diego team beat the Rebels with a thirty-four point lead.  This was an unexpected defeat, especially because the Rebels had played a great throughout the season, only losing one time to the Palmdale Falcons.
Kiran Jain, a junior at the starting defensive end for the varsity football team, commented on the playoff game last Saturday. Jain stated, "Our entire team just couldn't play as a unit like we usually do. All week, we've been having horrible practices, and it really showed during the game."  The loss may have been a result of these unfavorable practices and lack of cohesiveness.  All throughout the season, the Rebels fought passionately, working cohesively with one another to take the victory. During Saturday's game, however, the Rebel team struggled to stop the Cardinal offense from advancing forward. They also fell short on their own offensive attacks, failing to score multiple touchdowns.
However, this may not be the only reason behind the Rebel's loss on Saturday. Coming off of a CIF championship victory, it would seem that the team would be motivated to strive to prove themselves once again, but Kiran thought otherwise.  He said, "Most of the team didn't have that strong will to win like usual. After winning the CIF championship, everyone didn't have that passion to play hard and strive for another win." As CIF champions, the Rebels may not have seen a need in going farther; they felt as though they had already proved themselves.  
Although the Rebel team lost, their bond as a team and as friends still stand. Several Rebel football players posted on different social media platforms, reminiscing about their football season and giving thanks to each other and to the coaching staff.  Although the Rebel team faced a defeat on Saturday, they are still named CIF champions and  have grown closer to each other as a team.