The Real Competition Begins as the End Approaches
The Quartz Hill High School swim team has had an outstanding swim season this year. With a shining record, all four teams are currently undefeated in the league. The team has won every dual and invitational meet that it has participated in, including the dual meet against Saugus High School (a team ranked two divisions higher than the Quartz Hill swim team). All of the hard work and dedication that the swimmers have put forth boils down to the next few days, as the team has two extremely important meets approaching: Highland and Golden League Finals.
On Thursday, April 26, the Rebels will face off their biggest rivals: the Highland Bulldogs. The Bulldogs pose the greatest threat to the Rebels for a number of reasons. Highland is currently ranked second in the league and is the closest team in size to the Rebels. However, the most significant reason for intense rivalry is because of QH's grudge against Highland for their win against the Rebel boys eight years ago. That loss broke a ten year undefeated streak. As a result of this devastating loss, Quartz Hill is determined to win at all costs.
As the meet approaches, coaches and captains begin to fine-tune swimmers' techniques. The upcoming practices will be filled with technique work and will focus on fixing small mistakes seen throughout the year.
While some believe success is a result of hard work, others believe a positive mindset is equally important. Madison Stines, a varsity girls' captain, shared how she plans to contribute to helping the swimmers prepare: "I always like to keep the energy up at practice, especially on the day of the meet. Keeping the swimmers distracted from their nerves and reminding them to have fun is my main goal as a captain. After all, that is what it's all about." She also added that "when you are in a better mental state, your times will show it."
Varsity boys' captain Nick Billmire agreed with Stines's viewpoint, stating that, "Mentality is what determines who wins."
Although the season will end for many after the Highland meet, the teams' top swimmers will continue to practice throughout next week in preparation for the Golden League Finals. The swimmers hope to improve their technique and mentality in order to secure another Finals win.
There is no doubt that the QH swim team will be victorious in their upcoming meets and will surely add another undefeated season onto their shining record of victories.
About the Writer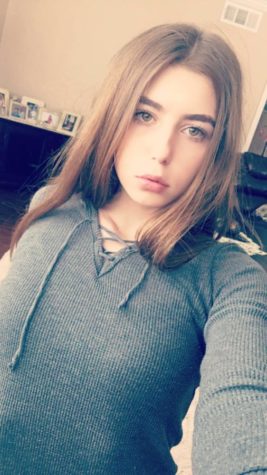 Aleksandra Brajanovska, Arts and Entertainment Editor
Hello, my name is Aleksandra Brajanovska! I am of Macedonia descent, and I am trilingual. I spend my free time reading, watching mystery shows, and going...