Halloween Don'ts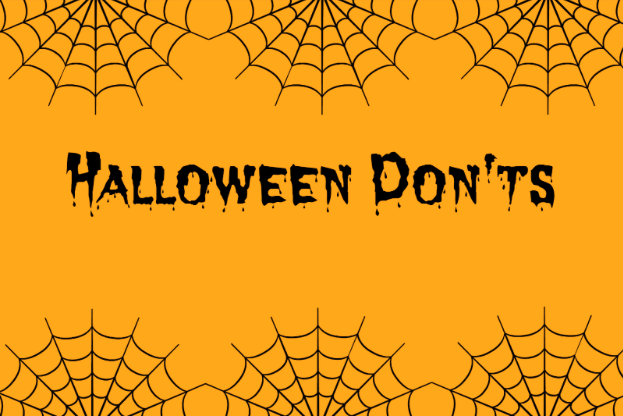 Ethnic Costumes

We all know the costumes that line the pages of the 'Party City' magazine. And of course, we've grown up seeing the various "cultural" costumes. However, not only are these costumes super expensive, but they're also extremely offensive. Using someone else's culture as a "costume" for a night is incredibly disrespectful, and people have been crusading to get such costumes that cross the line discontinued. Some costumes are seen as a mockery to one's cultural characteristics, and others think that it provokes cultural stereotypes.  It's better to stay on the safe side and wear something else.
Sensitive Content
If you are planning to wear your costume to school, or planning to go out with a younger sibling, it might be wise to determine whether or not your costume is appropriate. Of course, school itself has certain parameters to regulate what students wear, but at the same time, be wary of scaring your brother or sister. Also be mindful of sensitive and even triggering topics! Halloween is supposed to be fun, don't make it the opposite for someone else!

Lazy Costumes
Coming from a lazy person, there's no one else who has an appreciation for lazy costumes. But there's a fine line between 'I-didn't-put-thought-into-this' costume and a 'Put-some-thought-and-came-like-this' costume. Truly lazy garments are definitely the hallmark of Halloween. That doesn't mean you should show up wearing black clothes and proclaim yourself to be 'Dark Matter.' If you are going to slack this year, strive for the more ambitious lazy costumes. My personal favorite? Bringing a green sleeping bag and saying that you're Jabba the Hutt.

Finessing the Candy System
Ah, trick-or-treating. Being able to get candy by trapezing all around the neighborhood is a sweet victory (pun intended). But leave some candy for the rest of the kids. Don't go changing costumes eight times and hitting the same house again and again! At the same time, make sure you have a good stash to last you until next October.  

Music
We all enjoy the spooky season, of course,  but be mindful of your music tastes. Playing 'Spooky Scary Skeletons' on repeat is definitely not a way to get into the scary mood, and it starts to lose its charm by the eighth time playing it. Then again, Britney Spears' 'Toxic' isn't the right sound either. If you do choose to play music at an event or a party, then play a good mix of songs. You should probably stay away from that sad playlist on Spotify as well.
In the end, Halloween is about satisfying your sweet tooth, and most of all, having fun! Take lots of photos with your friends. We at the Ubiquity wish you a Happy Halloween!