Fashion Across the Ages
Hang on for a minute...we're trying to find some more stories you might like.
From the petticoats and top hats of the Victorian age to the bedazzled jeans of the early 2000s, fashion trends have made their way in and out of society for generations.  While some trends make it to the new decade, others may be forgotten. In most instances, this can be viewed as a good thing. However, some of the best fads have consigned to oblivion and are awaiting a highly-anticipated comeback.   
In remembrance of the departed trends and in recognition of those who have survived through the years, I have composed a list of the greatest obsessions from the past ten decades.  
1920s: Beaded Dresses
The carefully crafted dresses of the early twentieth century are signature pieces of the Jazz Age.  Commonly worn by flappers, these pieces were rather easy to move around in, despite their heavy weight.  The dresses feature multi-colored beading and geometric shapes influenced by the cubist works of Pablo Picasso and Georges Braque.  The beaded dresses were beautiful symbols of the freedom and contemporaneity of the post-war era that is the Roaring Twenties.  
1930s: Silk and Chiffon
Although the 1930s was a rough time in history, many great styles were still created during the period.  Two fads that have never managed to die out are silk and chiffon fabrics. During the 30s, designers made blouses, dresses, skirts, and slips out of these fabrics. However, the expensive materials were eventually replaced for rayon due to the Great Depression. This inevitably caused the trend to slowly die down.  Still, it has made multiple comebacks in the 70s, 90s, and continues to become more popular in today's generation.
1940s: Women's blazers & shoulder pads
The 1940s marks the beginning of women's androgynous fashion.  Starting with the designs of Christian Dior, fashion of the 1940s was based on men's utility clothing during World War II.  These pieces usually featured shoulder pads, tailored suits, or calf-length pencil skirts, keeping a woman's natural hourglass shape whilst adding the broadness associated with the typical male body.  This period was the first to introduce men's clothing into women's wardrobes. Since then, this has been a huge inspiration in women's fashion.
1950s:  Swing skirts
Although it originated in the 30s, swing music still played a huge role in fifties fashion and music culture.  This silhouette was named after the popular dances in the fifties, usually associated with swing music. These skirts are not only extremely flattering pieces, but are also rather joyful due to their movement and colorful fabrics.  
1960s: Babydoll dresses & drawn on lashes
The colorful fashion of the sixties not only brought a new movement of unisex clothing, but also introduced more mod-inspired styles to the younger generation.  Influencers of the period such as Twiggy and Edie Sedgwick brought never-before-seen styles into the scene. Twiggy was known for her big eyes, which she enhanced with drawn-on bottom lashes. She was also seen wearing babydoll dresses, Go-go boots, and more androgynous clothing.  The 60s is also often related to the environmental, anti-war, and civil rights movements. Clothing of the 60s, like many of the figures of the era, represented love, diversity, and innovation.
1970s: Crop tees & High waisted jeans
The 70s was a period of many different subcultures, most of which were influenced by the Punk, Glam rock, or Psychedelic Rock music of the era.  While multiple iconic trends appeared in this time, the ones that truly stuck were the high-waisted jeans and the cropped tees. These looks will continue to appear throughout the 80s, 90s, and present day.  In today's society, these pieces are considered absolute staples and have fueled an ever-growing market in the fashion industry.
1980s:  DIY fashion
While society can do without the pop culture trends of the 80s, the trends within the Goth/Deathrock subcultures, arising out of the post-punk era of the late 70s, definitely must make a comeback.  These looks commonly feature DIY jackets, chains, and harsh makeup, paired with dark clothing and teased hair. Influenced by bands such as The Cure, Siouxsie and the Banshees, and Bauhaus, gothic style featured dark looks focused around romanticism, existentialism, and morbidity.  This "do it yourself" culture is built around creativity and individuality, straying far away from societal norms.
1990s:  Baggy Jeans and Chunky Shoes
The 90s represents one of the pinnacles for basic street wear and comfort within high fashion.  With influences coming from both the grunge and hip-hop scenes, the 90s has a rather distinct style.  Street looks commonly featured belted jeans, baggy shirts, or a chunky shoe.
Demonias, Doc Martens, Filas, or original designs from Sketchers are critical components of any 90s outfit. The 90s fashion was all about comfort and practicality, making it stand out from previous decades.
Early 2000s: Tracksuits
The early 2000s is known for multiple fashion mishaps, i.e. gaucho pants and handkerchief hems. However, there were a few gems to come out of the decade, one being tracksuits.  Tracksuits are both practical and versatile. They come in multiple colors, fabrics, sizes and styles, therefore they are basically made for everyone. Tracksuits are also perfect pieces for those who are in a rush or simply are not fashionably inclined. With a tracksuit you have a killer ensemble at your fingertips.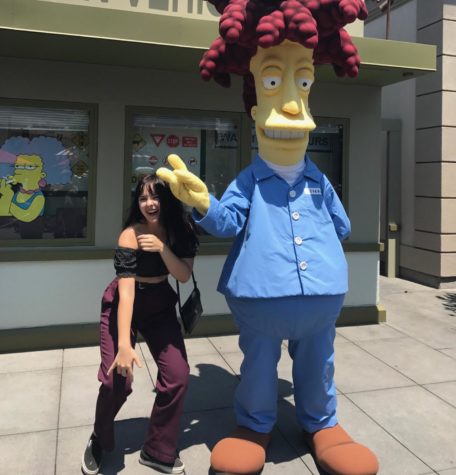 Josephine Nadolny, Staff Writer
My name is Josephine Nadolny, but everybody calls me Josie.  I absolutely love writing, and my dream is to work for National Geographic or Vice as a journalist. ...