QHHS Volleyball Loses Golden League Streak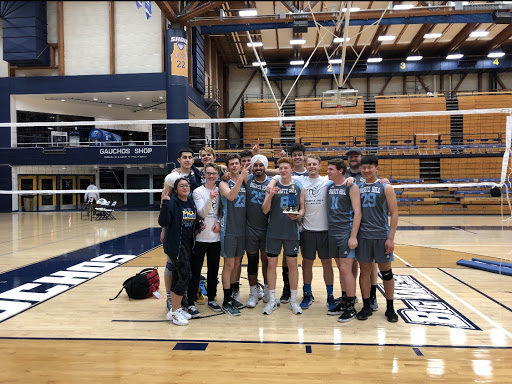 The Division 3 championship took place on Saturday at Cerritos College. The teams that were competing were Quartz Hill High School and Peninsula High School. This resulted in an unfortunate loss for Quartz Hill, breaking the team's undefeated streak throughout Golden League. The intensity was not an issue for Quartz Hill in the first set as they came out on fire. It was an easy win and the final score was (34-8). However, in the second the third sets, things took a different turn. The two star athletes on the Peninsula team slowly gained momentum and were able to shift the pace of the games in the second half of the second set. However, Quartz Hill was able to put up a fight, and nearly won by forcing a fifth set in the final minutes of the match.
Sartaj Brar, a varsity player, stated "This was an unfortunate loss for our team because we made it so far into CIF. I am happy the way our team performed throughout the season; we really killed it. We [started] out strong, and we finished strong, there is nothing else I can ask for from my team. In the duration of the match we lost our momentum, but during the end of the match it started to pick up and we forced a fifth set. We played our hearts out, and gave it our all and it hurts to lose when your so close to something".
Miles Kanga stated "We had a lot of ups and downs during this match. In the first set we came out like we always do, with great intensity. We kind of lost that midway during the match, but our guys picked up really well. By the end of the game, Nathan [Merren] had 19 kills and eight digs. He was also able to clutch two championship points near the end of the fifth set. We got advice from some older players who got to CIF finals before, and they told us to play our hearts out and we did. There is nothing more I could ask from this team and I love these guys like brothers".
The championship game resulted in a sad loss for Quartz Hill High School. Nonetheless, as a team they were able to accomplish so much throughout the season and in CIF. Their performance in CIF could lead to many players on the team getting scholarships and offers from Division 1 Universities.