Who is Meliah Patterson?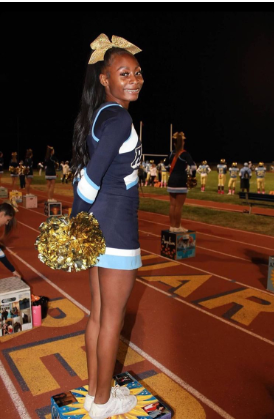 Quartz Hill High School offers a multitude of sports. However, cheerleading is a sport that many students tend to overlook. While cheer is not a stereotypical "sport" like football or tennis, the girls on the cheerleading team work just as hard as students who play the common sports. They must be strong enough to lift a person weighing a minimum of 100 pounds and coordinated enough to do flips, jumps, and other stunts.
Meliah Patterson, a senior at Quartz Hill High School, has been on cheerleading teams since she was five-years-old. She used to cheer for youth football and, when she was old enough, joined an All Star Cheer team. Once she started high school, she joined the Quartz Hill High School cheer team and wholeheartedly believes that our team is "the best high school cheer team in the AV." Meliah loves the sport and she claims the supportive team is a bonus. 
Like any other sport, the cheerleaders must practice to master their routines and stay in shape. Meliah enjoys being on the team because it helps her stay active while still having fun. The team focuses on three main things. At practice, they usually do some form of cardio like jogging. They also work on building muscle, which can be helpful when lifting girls to do stunts. Flexibility is another area of focus. The girls must stretch in order to do certain stunts like the splits. 
During the beginning of the season, the cheerleading team plays team-building games to learn how to work well together. When girls are holding each other up and throwing each other in the air, they must be able to communicate and work cooperatively. A normal practice consists of conditioning, stretching, jumping, and doing stunt practice. The team practices anywhere from two to six hours a week to prepare for a variety of games ranging from football to basketball to volleyball. 
When they aren't practicing or cheering for a game, the cheerleading team may be at a competition. Like any other sport, they compete against other teams. For a typical competition, they must perfect a routine with impressive stunts and formations. 
Besides being on the cheer team, Meliah Patterson participates in a few clubs including the California Scholarship Federation, the Black Student Union, and the American Cancer Society. She also volunteers at Joshua Elementary School as a helper for the cheer team. After high school, Patterson plans on pursuing her dream of becoming an OB-GYN. Wherever life takes her, she will surely look back on the fond memories she made while cheering on the Quartz Hill High School team.