North Macedonia beats Italy in World Cup Qualifying
On Thursday night, March 24, shock and celebration filled the streets of North Macedonia after their soccer team beat the Euro Cup Champions in a world cup qualifying match. The opponents had been defeated by a goal scored in the additional time of the second half. The results of the match-up were 1-0, with hopes rising that Macedonia could qualify for the world cup for the first time in history. Disappointingly, Macedonia has not qualified for the world cup this year as a result of a match that took place on Tuesday, March 29, against Portugal. Macedonia has yet to qualify for a World Cup, while Italy has now failed to be eligible for the second cycle in a row. 
The qualifying process of the World Cup consists of separating the 55 nations into ten groups. The winners of each group immediately qualify, while the runner-ups are then placed on three different paths, each path with four teams. Then the teams play against each other in the semifinals, and the winner moves on to the finals match. North Macedonia and Italy played against each other in the semifinals match, and Macedonia's victory allowed them to move onto the finals, where they competed against Portugal. 
Aleksandar Trajkovski, the man who scored the winning goal of the match, told the people of his country, "This is for my family and the whole of Macedonia." The game started off rather slow, with Italy having possession over the ball 65% of the time. Italy had 32 attempts on the goal, while Macedonia had only four unsuccessful shots. Italy had 16 corner kicks, and Macedonia had none. Italy had 14 fouls, and North Macedonia had 13 fouls, with one yellow card given to Darko Velkovski. The Italian players had multiple chances to score a goal. Still, they fumbled under pressure, and the ball always ended up under the arms of Macedonian goalkeeper Stole Dimitrievski. 
This is not the first time Macedonia has beaten such a large country in a qualifying match. Last year, Germany lost their first World Cup qualifying match against Macedonia for the first time in 20 years. In the first half of added time, they were defeated 2-1 with a goal scored by now-retired Goran Pandev. The winning goal in this game was scored by Elif Elmas in during minute 85. This resulted in Macedonia moving above Germany and into second place in Group J. Though they did not qualify for the World Cup this time around, it is evident that this small country's soccer skills are growing.
About the Writer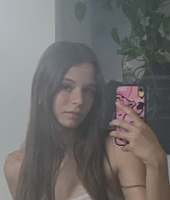 Viktoria Brajanovska, Staff Writer
Hello, my name is Viktoria Brajanovska, and I am currently a freshman at Quartz Hill High School. As this is my first year in high school, I look to join...