The Start of The Boy's Volleyball Season
With the winter season ending, it is time for spring sports, one of them being Boy's Volleyball. At Quartz Hill High School, the Boy's Volleyball team is one of the school's most competitive programs. The program has won the Golden League Championship for seven years straight and one CIF Championship in 2008. They have a total of 16 Golden League Titles dating back to 1998. The program is no joke; they plan on continuing to win throughout the years. 
Last school season, the 2022 Boy's Volleyball team was very young and inexperienced, with only one senior, Marcus Bonner. The team had many ups and downs throughout the season, but in the end, they came through, won the league title, and went to round two of the CIF Playoffs. In the playoffs, they lost to the state champions that year, Upland High School.
Although the team was young and consisted of many sophomores and juniors, this year, they will be much more experienced and assertive. This 2023 season, senior Taysen Ford and I lead the team as the two captains. The program consists of the same squad as last year (minus Bonner), with a few younger additions—that includes Bonner's younger brother, Joseph Bonner. 
Ryan Dunham, the coach, has been preparing them for this season since the summer of 2022. When asked what they did on and off the court to prepare for this season, the outside hitter, Taysen Ford, answered, "On the court, I've been trying to mainly focus on doing everything I do, even every movement, perfectly. I've also been working on mindset and energy while playing because I believe those are two of the most important assets you can have when playing volleyball, let alone any sport. Off the court, I've been doing my best to keep my mind on the game, like watching my film, seeing what I did wrong, and how I could correct that next time to improve my play. Also, working out and staying in shape while off the court is something I've been doing." The boys set themselves to winning the Division 4 CIF title and putting up a big banner in the big gym. After seeing their potential from last season, it has been their number one goal. 
Tryouts for the JV team started this week (January 17th-20th), and they are always looking for more talent. The varsity team will lose many seniors next year, so they will need the first-year students to step up for the 2024 season. Be sure to come and watch the boys win this year, as it will be a year to remember for the Royals.
About the Contributor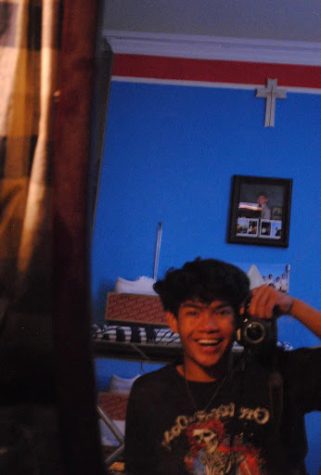 Kristian Ramones, Staff Writer
Hey Royals! My name is Kristian Ramones and this is my first year in Journalism. I am a junior and a writer for the sports section of the school newspaper,...