Coachella 2023
Coachella is a three-day event that has a variety of musical genres, all with the same objective of showcasing famous performers in this great music festival known worldwide. Since the festival's inception in 1999, this year's lineup has the most variety. Bad Bunny, a Puerto Rican rapper and vocalist, finished day one with a wild concert, becoming the first Spanish singer to headline. In another historical performance, K-pop giants Blackpink had a breathtaking performance to cap off day two, becoming the first Korean singers to headline the festival.
Frank Ocean says to everyone after performing a DJ-supported "rave" in the middle of his headlining performance, "This is chaotic but so much fun." After a six-year hiatus from the stage, fans were excited to see Ocean perform live, but their excitement dropped because he showed up an hour later than expected. However, as he began his act with "Novacane," everyone was eager to sing along. Ocean makes the curfew-related announcement as the clock creeps past midnight, and the show has to conclude sooner than planned. The crowd alternates between grunts from enraged fans and cheers from the fans who were delighted to see the artist in person.
The drive to push the limits of live music is still present even though the alternative performers that launched the festival are not the highest profile. Huge performances proudly showcasing the diversity of music while fanatics sing in an entirely different language prove the force of these performances and songs to unite people across genres and borders, as well as the hopefully limitless future that music is headed for. Years ago, these artists would not be expected to headline Coachella. However, now that they have, the issue of knowing if these headliners deserve to be in the festival's most coveted places is only up for discussion because of the unpredictable nature of music.
In addition to the festival's headliners were new albums, notable guest appearances, and last-minute additions. The weekend's shocks do not stop as Billie Eilish, the festival's headlining act for 2022, as he unexpectedly appeared during Labrinth's performance to sing their duet, "Never Felt So Alone." With Tyler The Creator, Omar Apollo, and Daniel Caesar joining her for her electrifying performance, Kali Uchis kicks it up a notch. MUNA brings out Boygenius to sing "Silk Chiffon," and Bad Bunny and Post Malone are also there. Metro Boomin's amazing performance had the craziest surprise appearances from Diddy, John Legend, 21 Savage, Future, Mike Dean, The Weeknd, and Don Toliver.
Even amid the confusion and disarray, the commitment to enjoyment and advancement is there. Coachella is the main music festival of the year that people's attention is focused on. Coachella's unique elements—whether it be by selecting the greatest artists in the world based on their following, streams, or professional standing rather than their musical preferences—show their commitment to not only showcasing music but also giving people an opportunity to enjoy it to the fullest extent.
About the Contributor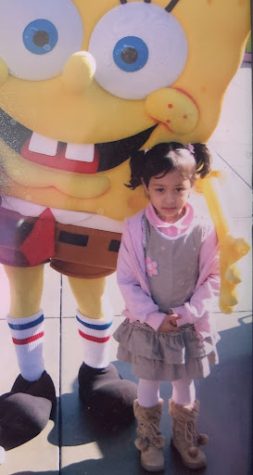 Amity Hoque, Staff Writer
Hey Royals! My name's Amity, and I'm a junior. I very much look forward to writing for the school newspaper. This is my first year of Journalism, and...