Quartz Hill Esports: A Legacy
If you ask someone what they know about Quartz Hill in the Antelope Valley, they'll talk about our soccer team, IB program, and run down campus. If you ask someone in Los Angeles county, they'll probably still only talk about the soccer team or the fact that we're in the middle of nowhere. But if you ask a national high school, we're known for one thing in particular, where we've engraved our name amongst the best: that is our Esports program. That's right, the Quartz Hill Esports program is one of the best programs in the nation, with numerous state and national championships. 
Above all is our Rocket League team, which is the number one team in the nation, having one SSL (top 500 of all players), and two grandchamps (top 1000 of all players) on the team of three. The chemistry they've built, having played together from freshman year, is what has pushed them to their success. Varsity Rocket League Captain and senior Jacob Mosman states, "I think our success has been created from the amount of time we've put into the game together. Most players grind on their own but we've made a commitment to play and practice together as much as possible." Just recently, they've won two national championships in Valhallan Esports League (VHEL) and PlayVS, and having won the High School Esports League (HSEL) state championship, they're on to play their first national LAN (in-person) tournament in Kansas City. 
Quartz Hill Esports has earned its name for much more than just Rocket League though, as they're nationally recognized for other video games too. In Valorant, a first-person tactical shooter, Quartz Hill has peaked as the second best team in the nation, with most members in the top 2000 of all players. They boast a VHEL national championship and are looking to defend their title in the championships this spring season. In-game leader and senior Evan Rhoten states, "I honestly feel like our success is due to our environment with heavy positivity and support from our teammates, coaches, and fans. I love every one of my teammates and that shows in the game."
Esports is deeper than just sitting behind a screen and playing video games. For these virtual athletes, they've developed life skills, meaningful relationships, and experiences that will last them a lifetime. Rhoten states, "Undoubtedly, my favorite experience has to be playing at a LAN with the team this spring season. We got to play at a prestigious stage like UCLA, which I never would've expected from a small public school like Quartz Hill."
We have some seriously talented students at Quartz Hill, who've truly represented and embodied the Royal spirit on the state and national level. If you or someone you know is interested in being part of the Esports legacy, contact Mr. Fields in room 105 for more information. Good luck to the teams competing in nationals and go Royals!
About the Contributor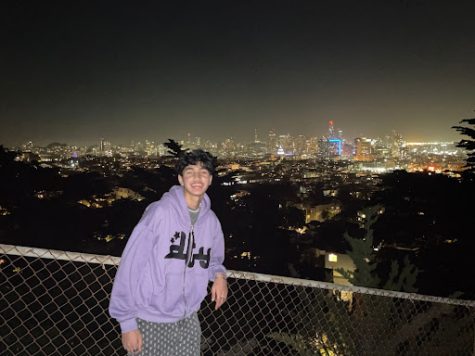 Nilesh Kumar, Print Editor
Hey Royals! I am Nilesh Kumar, a senior and four-year writer for the sports section of The Ubiquity. I'm also the editor of the physical newspaper, meaning...