Stranger Things: Not Everything Is What It Appears To Be
   Stranger Things is a thrilling Netflix original drama created by the Duffer Brothers. The plot is set in a small, Midwest town in the 80's. The show follows what happens when a 12 year old boy named Will disappears on his way home from hanging out with his friends. Many unexplainable secrets begin to unravel when Will's mother, Joyce joins forces with Police Chief Hopper to investigate her son's disappearance. While Joyce starts to piece things together, Will's friends start their own quest to find him and, along the way, meet a mysterious girl named Eleven, later known as El, who has special powers. This leads to the opening of supernatural occurrences that the town and its people may not be able to recover from. The supernatural occurrences consist of the Demogoron and the discovery of the gate to the Upside Down, which is a parallel universe leading to their world.
   One of the more interesting aspects of the show is the cast. Every single actor is incredible, but the kids are particularly impressive. With a very small number of lines, Millie Bobby Brown gave an amazing performance as Eleven by the ways she conveyed the character's emotions. Eleven is a mysterious, quiet girl who escaped from a government facility that experimented on her ever since she was born. Therefore, she does not understand normal human things, nor has she ever had anyone genuinely care for and love her. However, this all changes when Mike, played by Finn Wolfhard, decides to take Eleven in after finding her in the woods all alone. He hides her in the family basement, away from sight. The two grow inseparable as they become true friends who do not lie to each other. Later in the series their growing friendship leads to a cute middle school type of relationship.
   There are only eight episodes in the series, which is both a pro and a con. The directors of Stranger Things knew how long they wanted it to be, and every episode will have you on the edge of your seat, leaving you to think of what will happen next. The story is told very clear, with just the right amount of pacing and just enough time given to each of their characters. There is a terrific amount of creepiness, humor, and mystery ongoing throughout the show. Even when the final credits roll, you won't have enough answers.
   At times it's actually quite terrifying, yet very sad. But you will still find yourself laughing and cheering on the heroes. Overall, I really enjoyed this creepy, yet very humorous, show.
About the Writer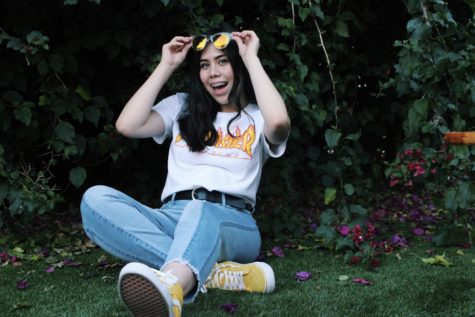 Naila Gonzalez, Multimedia Staff
Hi, my name is Naila Arely Gonzalez and I was born on August 6th 2001. I joined journalism because I wanted to challenge myself to become a better writer....