When Life Gives You Lemons Make Lemonade
   Her royal highness has made yet another triumph. American singer Beyoncé is a sensation throughout the globe with chart topping hits such as "Single Ladies" and "Crazy in Love." Now, she may be known for glamour and killer dance moves, but there is something that makes this artist stand out above the rest. Much of her music incorporates social and moral messages, no matter how big or small, that are applicable today.
   Recently, Beyoncé has surprised her fans with a new album, following a T.V. special. Beyoncé dropped her sixth solo album on April 23rd during an HBO special. Lemonade by far is Beyoncé strongest album yet. It features guest appearances by Kendrick Lamar and The Weekend. It samples Led Zeppelin, Animal Collective, and the Beat's version of "Can't Get Used To Losing You." There is even a country song.
   With Lemonade, Beyoncé proves that there is a thin line between love and hate after finding out her husband, Jay Z, had cheated on her. In all these songs, there is a sense of heartbreak and betrayal. From the start, Lemonade proves that it is more than just an album. It's a journey of self-discovery and coming to terms with the good and bad that occurs in everyday life. There is something for every type of listener, with a variety of genres ranging from pop, rock, to hip hop and messages about love, strength, and fighting hate.
   The album opens up with the song "Pray You Catch Me," which is the perfect way to start such a powerful album. In "Pray You Catch Me," Beyoncé finally realizes that her beloved husband has been cheating on her. As the truth begins to slowly unravel, she prays that her husband catches her finding out so he realizes she is hurt by his actions. Her aching voice against the piano cords easily makes one feel sorry for her.
   The song is then followed up by "Hold Up," which has a more optimistic beat to it. In the music video of this song, Beyoncé is walking through the streets, smashing car windows with a baseball bat. Later, she drives through a series of cars with a monster truck.
   My favorite song from the entire album has to be "Sorry." Beyoncé makes it clear that she will not be accepting any apologies, quoting: "Now you say you're sorry," "Now you want me to call you crying," "Now you gotta see me wilding," " Now I'm the one who's lying," and "And I don't feel bad about it." Beyoncé will spend as much time partying with her girlfriends as Jay Z can spend time with Becky with the good hair. Overall, Lemonade is a musical masterpiece. This album will likely be remembered for years to come.
About the Writer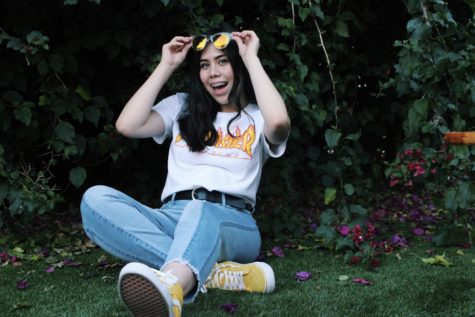 Naila Gonzalez, Multimedia Staff
Hi, my name is Naila Arely Gonzalez and I was born on August 6th 2001. I joined journalism because I wanted to challenge myself to become a better writer....