The Craze about Grey's Anatomy
   ABC productions cannot get any better with hit shows such as Modern Family, Once Upon a Time, Scandal, and countless more. Nonetheless, Grey's Anatomy has to be the most popular show out of them all, with off the chart reviews and continuous seasons. Shonda Rhimes, the main writer of the show, along with nine others, works furiously to create captivating new episodes for the highly anticipated show.
   Ellen Pompeo takes the lead role as the narrator of the story, Meredith Grey. Meredith grew up with her mother, whom was a world renowned surgeon. She thrived to follow in the footsteps of her mother and has managed to do so. Grey was able to achieve her goal of becoming chief of general surgery. Along the path of her medical career, Grey meets other doctors who influence her life in every way possible. These people include Christina Yang, George O'Malley, Izzie Stevens, Alex Karev, Callie Torres, Owen Hunt, Miranda Bailey, Derek Shepard, and many more. Christina Yang soon becomes Grey's best friend and plays a huge role in her life. Alex Karev also shows importance in Grey's life as he supports her through every hard situation she goes through. However, Derek Shepard has to be the most important character to Grey, as he becomes the love of her life.
   Upon first glance, Grey's Anatomy might seem like it is all about medicine and doctors. Yet, this show is more than that. It combines romance, drama, and tons of action. Grey's Anatomy depicts the lives of the surgeons at the hospital and their relationships within the workplace. Daily surgeries also take place and can often become very intense when someone's life is on the line. Also, the competition within the medical field can add a lot of drama and action.
   This show is interesting because we can see what the busy lives of doctors are like. Even though there are unrealistic elements about the role of a doctor in this show, we can still see a little window into the medical field. For example, the inside of an operating O.R. is shown, as well as surgical procedures or even just daily work at the hospital. Normally, you would not be able to witness these events. However, this show allows you to get a feel for what it might be like to become a doctor or surgeon.
   Grey's Anatomy is definitely the show to watch if you want to cry with frustration for more episodes to come. With twelve seasons down, I have not enjoyed a show more than this and cannot wait for the next season to come.
About the Writer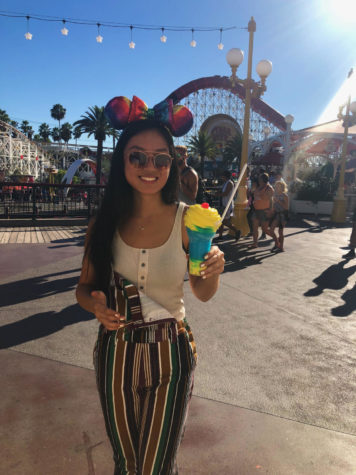 Tiffany Tran, Multimedia Editor
Hi! My name is Tiffany Tran, and I am one of your ongoing staff writers for the QHHS Ubiquity.  I mainly joined this class to be a better version of my...