Top Current Songs
1. "Closer" – The Chainsmokers featuring Halsey
   Falling into the "pop" genre, "Closer" topped the charts just days after its release date. With collaboration of the two highly known pop and DJ artists, this song has created a nonstop craze from all age groups. The Chainsmokers include a production duo featuring Andrew Taggart and Alex Pall who like to mix together tunes that top the charts. Halsey is a twenty-year-old pop singer that recently got attention from her new album "Badlands." Together, the two astonish the world with this popular song. Not only is the tune extremely catchy, but the lyrics are very meaningful. "Closer" is written with a nursery-rhyme-like melody. In the same vein, the lyrics are about not aging, and critics furthermore believe that the song is highly suitable for 2016 pop music.
2. "Starboy"- The Weeknd featuring Daft Punk
   Ranking as the second most popular song at the moment, "Starboy" has received attention from all over the globe. The Weeknd collaborated with Daft Punk to produce an upbeat song that ranks high in the charts. Abel Makonnen Tesfaye, also known as The Weeknd, is a Canadian singer, songwriter, and record producer. Since uploading anonymous songs onto Youtube in 2010, The Weeknd has blown up as a star. Daft Punk is an electronic duo from France formed in 1993 by Guy-Manuel de Homem-Christo and Thomas Bangalter. Both of the talented artists worked together to form a song that has amazed many. If you are into luxurious cars, this song is the perfect choice. The Weeknd sings," We don't pray for love, we just pray for cars." This whole song is about the unconditional love for cars. With such an upbeat and catchy tune, Starboy climbs the chart with a very high chance of soon being #1.
3. "Heathens"- Twenty One Pilots
   A newly popularized band, Twenty-One Pilots, create songs that sell out stadiums. Tyler Joseph, Josh Dun, Chris Salih, and Nick Thomas have made it to the top of the charts many times before with well-known songs such as "Stressed Out" and "Ride." "Heathens" stars in the highly favored movie, Suicide Squad. With lyrics that reference the movie and instrumentals that reflect its energy, "Heathens" impresses both music and comic book fans.
4. "Let Me Love You"- DJ Snake Featuring Justin Bieber
   DJ Snake and Justin Bieber worked together to create an incredibly hip and horrifyingly catchy song. Ranking #4 on the Billboard charts, "Let Me Love You" has not only the fangirls hyped, but everyone else as well. DJ Snake is a music producer and a French DJ who is a Grammy-nominated artist. Justin Bieber is a megastar with a network of $200 million. This song is the type of song that will stick in your head for weeks, even when it is unintentional. With powerful lyrics about not giving up on love, Justin Bieber, along with DJ Snake, is able to achieve a spot onto the chart of Billboard's top songs.
About the Writer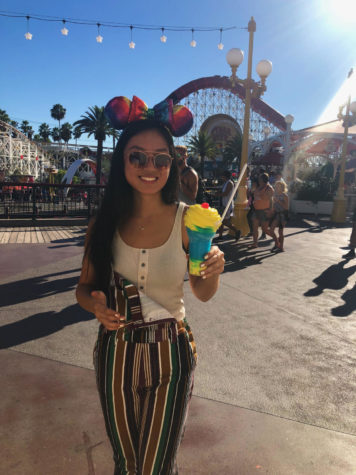 Tiffany Tran, Multimedia Editor
Hi! My name is Tiffany Tran, and I am one of your ongoing staff writers for the QHHS Ubiquity.  I mainly joined this class to be a better version of my...