Single Ladies Club
     We have entered the month of February, which means Valentine's Day is right around the corner. This has to be the most hated holiday (well that is if you are as single as a pringle). It is very easy to get jealous and frustrated when you see the happy couples posting cute pictures on social media because it reminds you of how single and miserable you truly are. No matter where you go, you will be surrounded by public displays of affection that will make you wish you would have stayed home.
     As you all know, no one likes a negative Nancy, so pucker up a positive attitude and add a little creativity and you can have as much fun as what the "lovey dovey" couples do on Valentine's Day. So to all my single ladies and dudes, put down the chocolates because here are four things you can do on Valentine's Day.
1. You do not need a "boo thang" to spoil you with gifts on this holiday; instead take your mom's credit card and shop till you drop. If there is something you have been eyeing but holding off for some reason, give it to yourself as a little Valentine's Day gift. We all need a little gift to ourselves every now and then, so treat yourself because you deserve it.
2. We all have little time to sit down and relax due to overwhelming homework assignments or after school activities, but Valentine's Day gives us the excuse to ditch all of that. So, have a spa day and run a steamy bubble bath that you have been wanting but never had time for. Nothing beats soaking in a hot bath for an hour or two. To make things even more enjoyable, throw in a LUSH bath bomb or some soothing bath salts. As for your facial, make a DIY face mask out of an avocado that will leave your face glowing and smooth; do not forget the cucumbers to cover and rejuvenate your eyes. Yes, even the gentlemen can participate in this activity too.
3. Have a "singles party" and invite all your fellow "single club friends" on a fun night out to the movies or to grab a bite to eat. You do not need a sweetheart's company to have fun; instead, be surrounded by your friends who know how to have a great time. Get all dressed and caked up, and head on off to your favorite restaurant to enjoy your favorite meal. Afterwards, go to the movies to see a film you have been dying to see.
4. Have you ever wondered how it would feel to spend Valentine's Day with your celebrity crush? Let this be your guide to find out. All you have to do is get a balloon, print out a picture of your celebrity crush, cut it out, and then paste that sucker on the balloon. Get some cozy blankets, get cuddled up with your DIY celebrity crush balloon, grab the popcorn, and turn on Netflix. I guarantee this will make you forget that you are single.
     Valentine's Day may be the holiday of love, but that should not stop all my fellow single ladies and gents from having fun. You do not need a sweetheart to make you happy. After all, the longest relationship you will have is with yourself.
About the Writer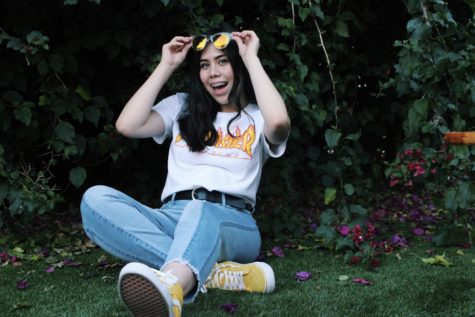 Naila Gonzalez, Multimedia Staff
Hi, my name is Naila Arely Gonzalez and I was born on August 6th 2001. I joined journalism because I wanted to challenge myself to become a better writer....