American Horror Story Show Review
     If you ever find yourself on Netflix and in need of something entertaining to watch, you should give American Horror Story a whirl. You can expect to be thrilled, scared, excited, disgusted, and to fall in love with the amazing cast.
     Produced from the creative mind of Ryan Murphy, it is easily the best horror television show out there. Even for those of you who get spooked easily, once you watch one episode, it will be hard to resist.
     Each season has a different theme which ranges from ghosts, demons, covens, and mental asylums just for starters. Trust me, the first time you watch it, you will be left speechless and probably wetting your pants.
     What makes the show so unique is that it does not follow the same storyline and it does not pick up where it left off each time. Each season is its own entity, consisting of a new plot and characters, which makes the show unpredictable and adrenaline-pumping. Season one revolves around a family that moves into a house that is famous for the multiple murders and deaths taken place there. Season two takes place in an asylum where a psycho murderer known as "bloody face" is being locked up.
     In order to play so many characters on one show, it is important to have talented actors who can quickly mold themselves into their newest character each new season. Thankfully, American Horror Story has such a phenomenal cast that never fails to disappoint. Evan Peters, Emma Roberts, Sarah Paulson, and Jessica Lange are just some of the many actors that star in this amazingly grotesque series. Personally, I have already binged watched all 5 seasons of American Horror Story, and I found out that season five was the most memorable. This season guest starred Lady Gaga as the Countess in the show's take on a haunted hotel. Gaga's performance as the fierce and sexy Countess was phenomenal; she never fails to disappoint, as her personality correlated with her character, resulting in a creepy feel.
     It is not often that you find a television show that stands out amongst the rest, but American Horror Story does just that. What is so great about this show is that it can essentially satisfy your needs by giving you new plots, twists, and characters, so you will never be left bored. So, for all you horror loving fans that are in need of some gruesome action, grab the remote control, turn on Netflix, and if you dare, watch American Horror Story.
About the Writer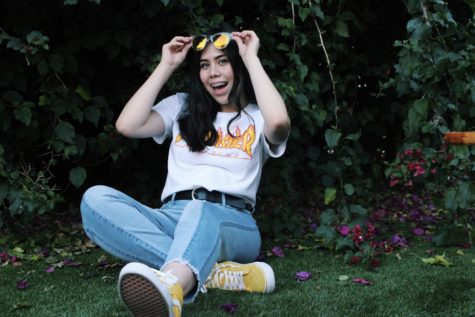 Naila Gonzalez, Multimedia Staff
Hi, my name is Naila Arely Gonzalez and I was born on August 6th 2001. I joined journalism because I wanted to challenge myself to become a better writer....