6 Cute Date Ideas
     Although Valentine's Day is over, you girls should still go out on dates with your man. However, you should not let the guys do all the work! Here are some date ideas for you and your man.
1. Take your loved one out to breakfast.
     Doing something simple can easily brighten your boyfriend's day. Going out to breakfast is a simple, yet fun, date. All you need is you, your boyfriend, and some money. It may not be the most adventurous date, but the food sure does hit the spot. Devour some delicious pancakes from your favorite local breakfast spot and take cute snapchats for your friends to see!
2. Go have a photoshoot!
     Grab your camera and your boyfriend and go out for a photoshoot! Walk around the city and take memorable pictures together. Keep these photos to add to a scrapbook, and save it for the future. Looking back at these photos will remind you of the good times the both of you had together. Not only is this an inexpensive date idea, but it is also very fun, as you both can explore the city for the best photo-worthy spots!
3. Go have a picnic at the local park.
     It is the simplest things that can make someone happy. Simply having a picnic at the park would put the biggest smile on your boyfriend's face. All you need for this date is a picnic basket, his favorite foods, and your man! Sit together while enjoying your favorite foods and watch the sun set. Guarantee, the both of you will have the best time ever!
4. Stargaze on the roof (or balcony)!
     The sky is the prettiest when the night falls and the stars come out. Lay down a couple of blankets and pillows and watch the stars with your boyfriend! Clear your minds as you lay down and just appreciate the beautiful sky together. Nothing is more romantic than this.
5. Take a dance together!
     Learn how to salsa or waltz at your local dance studio. Engage with each other and learn how to dance together. Not to mention, your dancing skills can be useful when you go to a dance! This date idea would be a great experience for the both of you. Book your class now and waltz the night away.
6. Take a cooking class together!
     Learning something new together can be the greatest experience ever! Not to mention knowing how to cook is a very important factor in a relationship. Take a cooking class and discover how to make your favorite foods! You can have fun and also learn how to save money for your future!
About the Writer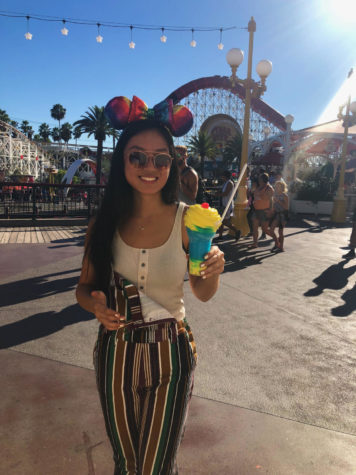 Tiffany Tran, Multimedia Editor
Hi! My name is Tiffany Tran, and I am one of your ongoing staff writers for the QHHS Ubiquity.  I mainly joined this class to be a better version of my...