Spring Break Vacation Destinations
Spring Break is right around the corner, which means vacations are a must. Get together with families or friends and decide where your next destination will be. This list has six of the many places you and your group can visit. Hurry before the seats run out!
1. Paris, France
Picture yourself on the Eiffel Tower holding an espresso, while gazing at the beautiful city of Paris. Now aren't you wondering why you are here, and not there? While visiting the fashion capital of the world, you and your family or friends can become fashionistas for a week. Not to mention, the traditional French foods will have you on the next flight back once you come back to the Antelope Valley. Book your tickets now, and enjoy your spring break in the lovely city of Paris.
2. Venice, Italy
What is better than riding on a gondola through the canals of Venice? Explore the city with family or friends, and enjoy the marvelous scenery before it sinks. Taste different foods while taking in the diverse culture. In addition, you can appreciate the many famous arts and architecture located here. Pack your bags and head to Venice, Italy!
3. Lake Tahoe
You don't have to leave the country to have fun! Grab your skis or snowboard, and head to the mountains in Lake Tahoe. One of the best ski resorts is here, and you and your group can ride down the slopes. If you prefer, sledding is also extremely fun! You can either road trip over there or fly, but regardless, you'll enjoy your spring break in Tahoe.
4. Las Vegas, Nevada
Right next door is the hustling city of Las Vegas. For a closer trip, drive down to Vegas and enjoy cirque shows and great food. Shop at the malls and spend time by the hotel pool. Your parents can participate in the adult activities in the meantime. It really is a win-win situation for you all. A short but sweet getaway!
5. Hawaii
Within five hours of a flight, you and your family or friends can be relaxing by the beach in Hawaii. There are many different islands to choose from, but all are as good as any! Horseback riding on the beach while watching the sunset is definitely a bucket lister. Go into the ocean and learn how to surf, snorkel, or scuba dive. If you want to relax by the beach or do adventurous activities, Hawaii is your destination.
About the Writer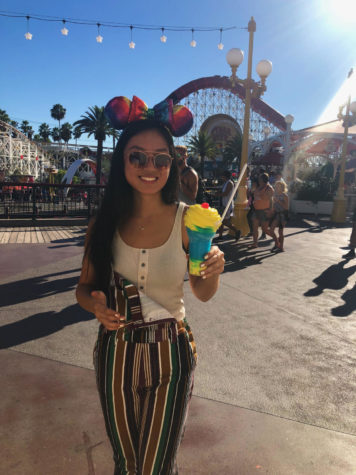 Tiffany Tran, Multimedia Editor
Hi! My name is Tiffany Tran, and I am one of your ongoing staff writers for the QHHS Ubiquity.  I mainly joined this class to be a better version of my...