Things To Do Over Spring Break
Spring has finally arrived and it's time for us to start thinking about things to do over spring break. Every year, I'm excited for a break from school, but when I get home I think to myself, "Well what now?" If you get easily bored like I do, here are some fun things to do over spring break.
1. Relaxation
My number one favorite pastime is to relax. This is key to "de-stress" from a long, tiresome school quarter. School is a major cause of stress for a majority of teens and that can have a bad effect on our mind and body. So fill up that bath tub with some soothing bath salts and bubbles, and just relax. Or, you can just stay in bed, turn on Netflix, and catch up on a show that you never got to finish.
2. Road trip
Although you and your friends might not be able to drive yet, you can still head out on a road trip over your spring break. Have one of your older siblings or parents drive you, and you could all head to the beach for a swim, hike on the mountains, or even go somewhere big like Yosemite National Park.
3. Amusement parks
There are many amusement parks that you can visit over break like Disneyland, Six Flags Magic Mountain, Universal Studios, and Knott's Berry Farm. My favorite out of all these places has to be Disneyland, also known as the happiest place on earth. I have never experienced a day at Disneyland that has not put a smile on my face or filled my heart with such joy. Once you spot one of your favorite Disney characters, it will be hard to resist taking a picture with them. Disneyland truly does bring out the inner child in you.
4. Friends
For us teens, spring break is a time to hang out with friends. Go have a sleepover at your best friend's house, go shopping together, or have a movie marathon. So grab the bowl of popcorn and turn on the T.V.
5. Museums
There are many museums in the LA area that you can visit during break. So, if you like to admire pieces of artwork, you can go visit the The Getty Villa, The Getty Center, or The Huntington Library. If you are not so much of an art freak, here are some other museums that will satisfy your needs: LACMA, The Broad, California Science Center, and Griffith Observatory.
Spring break is a time for you do have fun with friends and not worry about your assignments due when you get back. You only get a few breaks, so make them fun and make them count.
About the Writer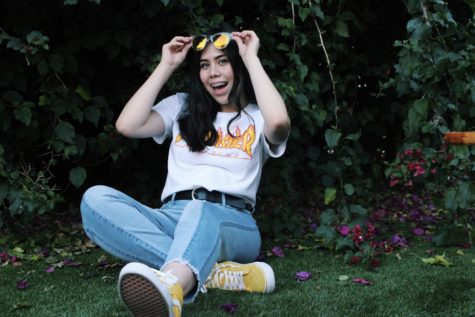 Naila Gonzalez, Multimedia Staff
Hi, my name is Naila Arely Gonzalez and I was born on August 6th 2001. I joined journalism because I wanted to challenge myself to become a better writer....