My Paris Experience
For the last annual family Spring Break vacation trip, we decided to go to Paris and Venice. We packed our bags and embarked on our journey on the 14 hour flight to Europe. The first flight, flown by Swiss airlines, was aggravating. Sitting in the same position for 13 hours straight was no fun at all. Our layover was in Zurich, Switzerland for exactly one hour which left us with just enough time to explore a part of the airport. After the hour passed by, we got onto our next connecting flight which would take us to Charles de Gaulle in Paris.
Once we landed, everyone was extremely excited and ready for the one week adventure to begin. We then got a taxi to go to the apartment we rented out, which was located right on Champs Elysees, and settled in.
After a night of rest, my family and I went out for breakfast at a typical French cafe located right in front of our apartment. Eating traditional foods and enjoying the gorgeous view, our day was off to a good start. Filled up with gourmet food, we headed out to go shopping on the famous strip of Champ Elysees. To end the night, we had dinner at Bateaux Mouches along the Seine River. We had a five course meal on a boat passing by historical monuments such as the French Statue of Liberty and the Eiffel Tower.
At around 8:00 AM the next day, we all packed a small backpack and headed to the airport for our flight to Venice, Italy. Once landed, we took a two hour ferry to the island and explored until the day ended. The next morning, we had breakfast at the oldest cafe in the world and later went on a gondola to ride throughout the city. On foot, we explored most of the city before we had to get back on another flight back to Paris.
With a full night's rest, after an exhausting mini-trip to Italy, we got into a taxi to Disneyland Paris. An eventful day was ahead of us. Everyone, especially my baby cousin, was extremely excited to be at Disney Paris. The castle was prettier and the rides were, for the most part, different from the Disney back at home. Everything was more extravagant. Once night fell, my family and I went back to the apartment. There, Michael Hyun, Howard (my brother), and I got dressed up and set out for our nightlife in Paris. For our first stop, we went to a famous burlesque show known as "Crazy Horse." Afterwards, the three of us went to a nightclub since the age limitation was 16 and over. We partied till the next day and eventually decided to go home after hours of fun.
To conclude the trip, we visited famous tourist spots such as Notre Dame and Versailles. Once we were done, everyone packed their own luggage back up and prepared for the gruesome flight back to Los Angeles.
About the Writer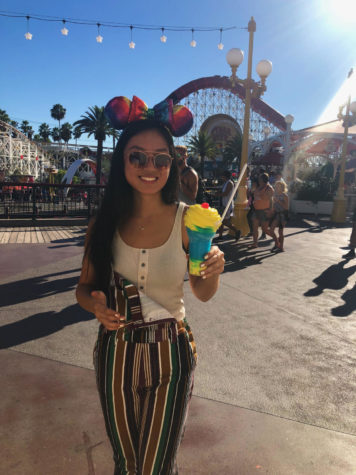 Tiffany Tran, Multimedia Editor
Hi! My name is Tiffany Tran, and I am one of your ongoing staff writers for the QHHS Ubiquity.  I mainly joined this class to be a better version of my...