Get Ready with Me: PROM 2k17
Last Saturday, April 22nd, I was fortunate enough to attend the Quartz Hill High School 2017 Prom at the Los Angeles River Gardens, and it was, in fact, a night to remember. I, a sophomore, attended this magical event with my boyfriend, Christian Gonzalez, who is a Junior at Quartz Hill.
While the dance was a great experience, it required a lot of planning, so I personally want to thank ASB for making this possible. After deciding to go to Prom, I had to get some things prepared weeks before this event; so here is a guideline to help all my girls out in getting ready for the following Prom of 2018.
1. Create a Prom Budget – Prom can be very expensive, especially once you add all of the small details. Create your own Prom budget with the help of your parents. These are some of the items you might want to consider when creating your budget: dress, makeup, nails, accessories, prom tickets, pictures, and lastly shoes. Remember to stay on track with your budget.
2. Finding the Perfect Dress – Prom gives us the chance to be the childhood princess we always dreamt of being. It is the perfect excuse to go all out and wear big dresses with flowing skirts and flashy accessories. I personally was overwhelmed when looking for the perfect dress because there were so many varieties to choose from. So, I suggest you have pictures saved on your phone to help you get an idea of what you are looking for.
3. Make Any Necessary Appointments – You are going to want to schedule any hair, makeup, or nail appointments at least a month in advance to ensure availability, especially during the rush of Prom season. Personally, from my experience, the MAC Bar at Macy's was booked out for Prom since January (so do not procrastinate).
4. Create a Group Plan – It is important that everyone within your Prom group is on the same page. Keep in mind a convenient spot for everyone to meet for taking Prom photos. This would also be the spot you would want to schedule transportation to pick up your group so everyone can get to the school on time. This sadly was not a forte, as my group of friends did not make time to take pictures since everyone was still getting ready.
5. Have Fun – Remember that Prom is supposed to be a fun event, not a stressful one. Do not be upset with yourself if a part of your plan does not go the way you wanted. It is a time to forget all of your worries and just go crazy with your friends.
Overall, the 2017 QHHS Prom was truly a night to remember, and I am truly blessed that I got the chance to attend this magical night with my date and my loving friends. I cannot wait to see what ASB has in store for next year's Prom of 2018.
About the Writer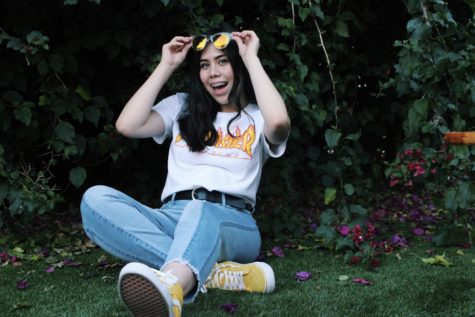 Naila Gonzalez, Multimedia Staff
Hi, my name is Naila Arely Gonzalez and I was born on August 6th 2001. I joined journalism because I wanted to challenge myself to become a better writer....