Fairly Entertaining Quotes on the Fair
Every August, adults and kids of all ages rush out to enjoy the one thing that makes the Antelope Valley not so bad. With rides that will make you nauseous to foods that will surely give you a heart attack, the fair is here to ensure a good time. Here are some quotes about the fair from our very own Quartz Hill High School students.
"I had the best time at the fair with the most awesomest girl, and I passed out on the ride trying to impress her by not using my hands." – Daniel Hernandez, 12th
"The fair was beyond fun, hanging out with friends. But, the best part of the night was going up the ferris wheel with my gorgeous girlfriend and enjoying everything from the top…" – Christian Gonzalez, 12th
"It was a lovely sight, with the bright neon colors shining through the night. Although the rides made me nauseous, I had an amazing time with my friends. Not to mention, Fluffy was hilarious!" – Victoria Guenther, 12th
"The fair was a lot of fun and I enjoyed performing for people that didn't go to my dance studio. The best part was the food, but the animals were a close second." – Summer Fisher, 11th
"I had a really fun time with my friends, especially on the rides and how we went out to eat afterwards." – Natalie Gutierrez, 11th
"The A.V. Fair was such a blast with my friend. Never had a moment where I regretted going." – Bryce Muir, 12th
"I had a great time this year! All the rides were fun, and I got to see a lot of friends I haven't seen in a long time." – Zack Gunner, 12th
"The fair is about what kind of people you surround yourself with, and I was lucky enough to spend it with my boyfriend." – Arel Jimenez, 11th
"It wasn't much different from past years, I was just scared I was going to die there because of all the videos on Twitter of the rides failing." – Erica Carter, 11th
"The fair was very enjoyable this year, especially since I spent it with two of my closest friends on my birthday. It was definitely an amazing memory that will be unforgettable." – Izabelle Rotol, 11th
"The fair is a nice place for a local event. But, every year, the parking and wristband prices go up when they're not adding anything new. We're paying more for the same old thing every year. Plus, some workers don't check if you're fastened in the ride correctly, and that's definitely dangerous." – Alyssa Alvarez, 11th
"This year, as every year, the AV Fair was a great place to take the family and have fun for all ages. Whether you wanted to see local artists show off their work at the gallery, or have fun playing games with your friends, the fair likely had something entertaining for you and your family." – Jacob Guenther, 9th
"I had a lot of fun, spent a lot of time with my friends, getting creative taking videos and pictures of my experience. I think lots of people tend to not have fun because they don't go with the right friends or they focus their energy too much on the rest of the people there, which can be bad sometimes because there's fights and it gets rowdy." – Amalyn Romero, 11th
"It was fun." – Gideon Jin, 11th
"It's only fun if you have money." – Autilia Monteon, 11th
"The fair was great this year! In the eyes of a 4-Her this year was quite an experience. It was filled with excitement, adrenaline, and many other emotions. Overall, the fair brought many new memories and is one of the highlights of summer." – Noelani Duldulao, 11th
About the Writer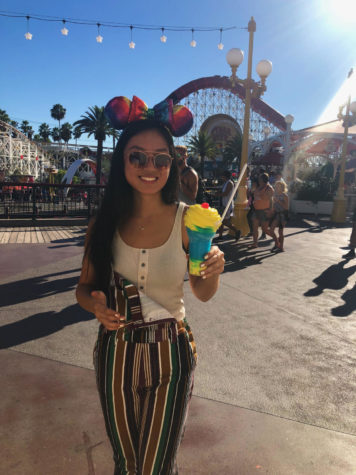 Tiffany Tran, Multimedia Editor
Hi! My name is Tiffany Tran, and I am one of your ongoing staff writers for the QHHS Ubiquity.  I mainly joined this class to be a better version of my...