Music Review on Imagine Dragons
For those of you who've been living in a box, Imagine Dragons is an alternative rock band that released its newest album, Evolve, on June 23. Some popular songs from the newly released album include Believer, Thunder, and Whatever It Takes.
Equality and rights for the LGBTQ community is what inspired the album. The band touts a message of love and support, supporting it doesn't matter who you are or who you love. Everyone is equal and that being gay is beautiful, right, and perfect. The Forbes interviewed the lead singer, Dan Reynolds, and asked him how important it is to speak out and how music can be used to not feel alone. Reynolds said that, "As far as it goes for artists and musicians and actors and people in the spotlight, from all spectrums, the far right, the far left, when it comes to shedding a light on these things I think that it's so important." And love and equality is what he brings to this album.
When he was interviewed for Billboard, Reynolds was asked what the artwork of the cover album meant. He said, "It means coming out of a place of darkness and arriving at a place of color, almost being healed and rejuvenated. People who have never dealt with depression think it's just being sad or being in a bad mood. That's not what depression is for me; it's falling into a state of grayness and numbness." One song that specifically portrays dealing with depression is Believer, a very popular song among fans. It's about going through ups and downs and realizing you can get better and evolve from that depressive position to something better.
Not only do these songs have meaning on a very deep level, but the rhythm to every song has its own unique and exceptional sound. For example, the song Thunder will have anyone dancing to its upbeat sound all night, every night. This song can fill anyone with adrenaline and exhilaration. If you are ever in a bad mood or just want to dance, Thunder is sure to fulfil your needs.
Imagine Dragons are not only famous for this amazing album, but many others including Night Vision, and Smoke and Mirrors. Their amazing collection of work may be why they have over twelve million listeners on Pandora. They also won a Grammy award for best rock performance in 2014. Not only are they still in the top charts, but they have also had many songs that have been heard in popular movies, including Suicide Squad and Passengers (which included a song from Evolve).
Music, is an addiction. Some listen because everyone else is listening. There are some of us, however, who listen because the songs connect and reach out to us. Everyone has a reason, but once you start listening, you cannot stop. Evolve, and all of the other albums from Imagine Dragons, will let you keep on listening. The albums from Imagine Dragons are for the music lovers out there who want music that reflects their struggles. It is for those who want to feel understood.
About the Writer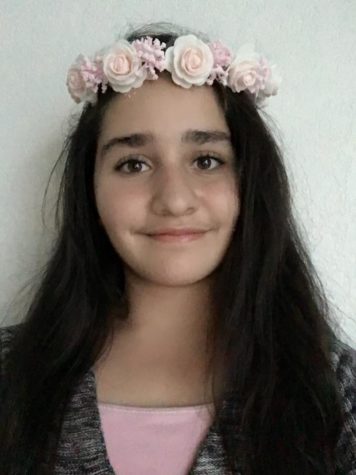 Anayis Francis, Staff Writer
Je M'appelle Anayis Francis and I am a sleep-aholic. During the time I am not doing my homework, I mainly enjoy watching TV, singing, and listening to...