Artists For Puerto Rico
Hang on for a minute...we're trying to find some more stories you might like.
Disclaimer: The following article has many Hamilton references embedded into the work. If you have an aversion to excellent Broadway musicals, please read with exercised caution.
Hurricane Maria has taken its toll on several countries, but none more so than Puerto Rico. The hurricane has made water so contaminated that Puerto Ricans don't have access to clean drinking water in their ravaged environment and are facing a massive crisis. At the sight of people in need, several people have stepped up to make a difference, but the one leading the charge is none other than the ten-dollar-founding-father (Hamilton Reference #1), Lin-Manuel Miranda.
Lin-Manuel Miranda is known for his role as Alexander Hamilton in Hamilton: An American Musical. He is the writer of Hamilton and In The Heights, both of which are Broadway musicals that won numerous Tony Awards. He has also made himself known in the Disneyverse, seeing as he had sung one of the many songs on the Moana soundtrack. Aside from being a singer, he is also a lyricist, actor, rapper, and arguably Hollywood's nicest celebrity.
When our dear old President Trump decided to tweet about the crisis instead of actually lending a hand, Miranda decided to rise up (Hamilton Reference #2), and come up with an action plan to help Puerto Rico. He gathered many other artists with Puerto Rican / Latin American musical background and began working on a massive songwriting collaboration. The entire focus of the song would be their beloved country: Puerto Rico.
"Almost Like Praying," a song dedicated as a shout out to each of the island's seventy-eight towns, is sung by a conglomeration of other artists, such as Jennifer Lopez, Luis Fonsi, Camila Cabello, and more. The catchy tune draws on a sample of María from the musical West Side Story and is heavily influenced by the traditional elements of Latin American music.
The catchy tune and cadence of lyrics not only capture the hearts of Puerto Ricans, but of people all around the world. The song's debut shot up to Billboard's Top 100, dominating as the most downloaded song. The funds for downloads are contributed to the rebuilding of Puerto Rico and provides access to hospitals and shelter. Miranda and the other artists for Puerto Rico continue to promote the collaboration in hopes of raising more money.
You can buy "Almost Like Praying" from the iTunes store or the Google Play Store. Contribute to Puerto Rico today! Meanwhile, feel free to listen to it down below. Before you know it, you'll be playing it non-stop! (Hamilton Reference #3).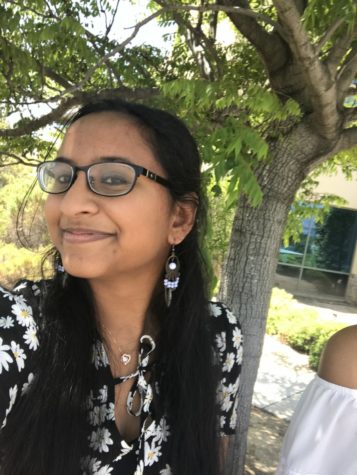 Shruthi Kumar, Staff Writer
Hey, hey, hey! It's your friendly neighborhood Shruth! I'm currently an IB junior, which means that I look like a trash can and look like I haven't slept...