Music Choice at Homecoming
Homecoming is a time for showing your Rebel pride, cheering on your football team, and, of course, dancing the night away with your peers. On Saturday, October 7th, students of Quartz Hill High School gathered in the 300 quad to finish off the week with some good tunes.
For the majority of the time, rap music was played. The lack of variety was a problem for some students attending the Homecoming dance. There was talk about the music played at the Quartz Hill dances and how it is put on replay and never strays from the norm of rap.
The Ubiquity created an online poll on this issue. The survey was posted on social media and voters needed to submit their student email. There are some biases to this poll since those without social media accounts would not be able to take it. Also, this poll has self-selection bias, and it doesn't represent the whole student body. Rather, one should view it as a collection of involved dance attendees giving their opinions.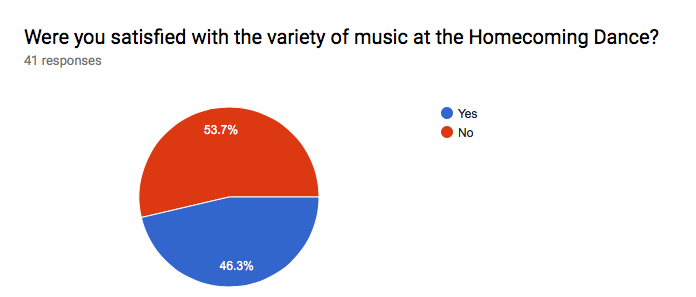 Generally, voters mentioned that they would like to see a wider range of music. One respondent, Kaylee Wheeler, stated, "Although the music of the Homecoming dance always gets me up on my feet, I find myself listening to the same music from last year, and the year before that, and the year before that."
In our poll taken by 41 people, we found that 46.3% of the people who took the poll and actually went to the Homecoming dance were satisfied with the music choice, leaving 53.7% people displeased.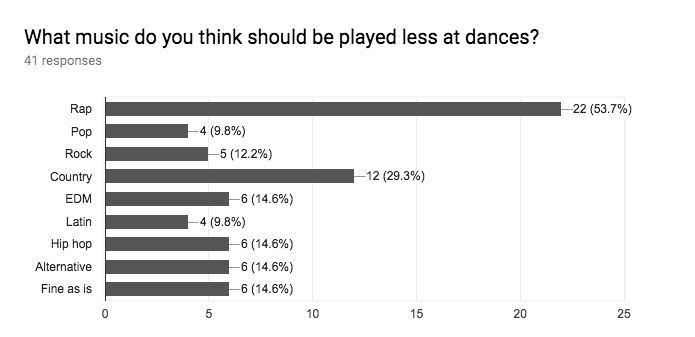 Voters then chose which genre of music should be played less. As anticipated, the majority (53.7%) voted rap. This number is significantly higher than all others, but country is the second-highest (although very little country music was actually played at the dance). From there, the rest of the numbers fall far behind, with the third being a tie between EDM, Latin, and alternative music. Additionally, the same number of voters for the third place said that the music was fine as is. One voter, Xitlali Garcia, stated that the DJ played too many "grinding" songs. This is a fair statement, seeing that most rap music has a beat that makes most people want to shake what their mama gave them in close proximity to a hot person.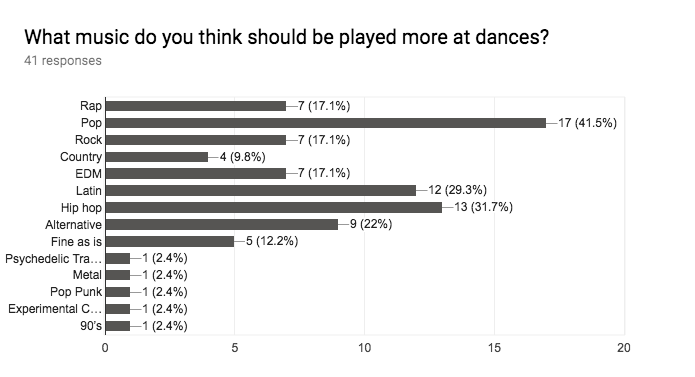 To improve the music variety at the dances, students voted that they would be pleased to hear more pop, hip-hop, and Latin music. The most spoken-about genre in the comment section appeared to be Latin music. Many were unhappy that Spanish music was underplayed because it seemed to be the genre that made people get up off their feet and enjoy the night. Student Amanda Rodriguez explained, "[Latin music] is really fun, to dance to and lots of people love dancing to it because of the sound and rhythm."
Another issue brought up in the comments of the poll was the fact that there was only one slow song. Though it may make some people feel lonely, most people find it fun to grab a loved one and sway to the music, whether it's their boo, just a friend, or someone they've been checking out. Junior Joshuah Ramirez said, "I strongly believe that there should be slower and peaceful songs, so that way, it gives people the chance to rest or 'shoot their shot.'" He's not alone in his opinion, according to several other respondents who had the same concerns as he did.
Of course, there were many people who did enjoy the DJ this year. In fact, some even claim that the DJ at the latest Homecoming was a major improvement over all of the others. One senior, Victoria Acuna, said, "This is my fourth year at QHHS, and in my opinion, I think this was probably one of the best DJs that has played at a school dance[.] I know that many of my fellow peers would agree with me on that."
Although some weren't satisfied with the music choice at the dance, the students of Quartz Hill High School were able to make the most of it and have a blast with all of their friends. After all, it's about the company, not the music.
About the Writers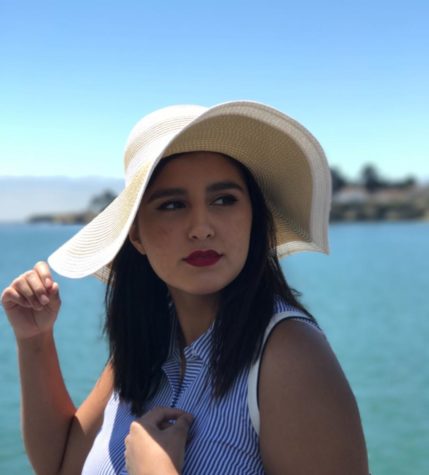 Mariah Hernandez, Staff Writer
Hello, my name is Mariah Hernandez. I decided to wake up at 5 A.M. every morning and join journalism because I thought it would be nice to write about...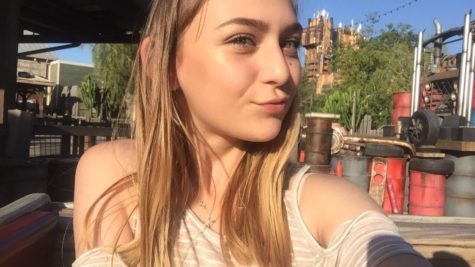 Natali Josevska, Staff Writer
Hello! My name is Natali Josevska, and this is my first year doing the QHHS Ubiquity. In my free time, I enjoy shopping, watching Grey's Anatomy, and spending...