The Story of Magda Baron
If you don't know Magda Baron by now, you probably are new to the school. Magdalene Baron is a well known junior at Quartz Hill High School. She is known for her peppy and creative personality. She is very active in school events and participates in most of them, Spirit Week being her favorite. Also, Magda joined Vocal Association and Mixed Chorus to express her love for singing. Quartz Hill's 2015 Talent Show was very influential to Magda. It was her freshman year and she wanted to show the school what she can do.
Not only that, Magda has her own YouTube channel. She has been on YouTube for two years now and has 298 subscribers. She has uploaded about 225 videos.
"I created my YouTube channel because I just want to show off my talents of who I am to be myself," Magda said. "My videos are on dance, tag videos, DIYs, cover songs, personality quizzes and Harry Potter related stuff or Star Wars or Indiana Jones…Basically, I do pretty much everything on my YouTube channel."
Magda states that she was influenced by many YouTubers to post videos on dancing, singing, and fashion. Her favorite videos she made were Singing the Harry Potter Story in 99 Seconds.
Magda is very into fashion as well. She believes it is a way she expresses herself. Olivia Holt, Bethany Mota, and Emma Watson influenced her style of clothing. "I love wearing hair bows and hair flowers to go with every outfit I wear," Magda mentioned.
When she grows up she wants to be a celebrity just like Olivia Holt and Emma Watson. She aspires to be like Emma Watson because she plays Hermione from Harry Potter, her favorite movie. Magda also wants to be a famous YouTuber, a singer, and a dancer.
You can check out Magda at her YouTube channel under the name "Magda Baron." She posts videos on Wednesdays, Fridays, and Saturdays. You can also see her in the Quartz Hill High School's Talent Show every year. She live streams on Instagram for all her fans to see what she is up to when she doesn't post on YouTube. She also is running for Prom Queen 2018, so make sure to vote.
Facts about Magdalene Baron
Talents: acting, singing, dancing, filming videos, and baking
Spirit Animal: Phoenix
Favorite YouTubers: Rosanna Pansino, Bethany Mota, Wengie, Brizzy Voices, Tessa Netting, Jon Cozart, Cherry Wallis, Kurt Hugo Schneider, CaptainSparklez, and Noodlerella
Favorite Celebrities : Olivia Holt, Emma Watson, Ella Purnell, Elle Fanning, Lily James, Daniel Radcliffe, Rupert Grint, Asa Butterfield, Bethany Mota, Tom Holland, and Gary Oldman
Hobbies: reading, gaming, baking, and watching Potter Puppet Pals on Youtube
Celebrity Best Friend: Rayen Strasser-King
Favorite Books: Harry Potter and Hunger Games
Favorite Movies: Cinderella (2015), Beauty and the Beast (2017), Snow White and the Seven Dwarves, Into the Woods, It, Guardians of the Galaxy, Spider-Man Homecoming, Suicide Squad, Jurassic World, Miss Peregrine Home for Peculiar Children, and Now You See Me 2
Favorite TV Shows: Kickin' It, Lab Rats, Doctor Who, Futurama, Pretty Little Liars, American Horror Story, and Bates Motel
Favorite Songs: "Phoenix" by Olivia Holt, "Can We Dance" by the Vamps, "Everything is Awesome," and "O Children" by Nick Cave
About the Writer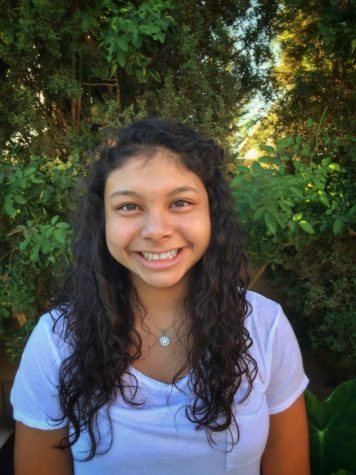 Jennifer Quijada, Staff Photographer
Hi, I'm Jen and I love to paint, play the piano, and take photos (obviously). My life isn't that interesting so that's all I'm saying.