Mr. Smith: Computer Science and Mathematic Extraordinaire
Mr. Smith cannot be described in merely one word. Rather, there are many different levels of him to understand. Mr. Smith is a beloved teacher on the Quartz Hill High School campus. He has been teaching here at QHHS for a total of 21 years and counting. Though he has taught mostly math on campus, this year he has decided to teach a new subject: Computer Science.
Mr. Smith has had a major influence on the Quartz Hill campus. He coached various sports and has been the club advisor for Christian Club, Key Club, Anime Club, and Robotics. He was also the first club advisor for Multicultural Club.
Throughout his lifetime, Mr. Smith has had numerous achievements in a variety of categories. In the seventh grade, he was recruited for a professional hockey team. He went on to college and played football, and later went semi professional in baseball. Furthermore, he is an award winning poet. During his free time, Mr. Smith enjoys writing poetry to unwind after a long day.
Mr. Smith has three children, the youngest of which is currently about to graduate, while the other two have already graduated. All three of his children have graduated from Quartz Hill. Mr. Smith has been in a relationship with his wife for a total of thirty-one wonderful years.
Being surrounded by young, aspiring minds that are constantly budding complex thoughts is what makes Mr. Smith truly enjoys his job as a teacher. The new ideas and opinions his students bring to him keep teaching fresh for him. Mr. Smith explained, "Teaching is the job for me. I always end up coming around to working with young people. Nothing else really keeps me happy with my job." Mr. Smith really likes teaching, but one of his pet peeves is people not doing what is asked of them.
In the future, Mr. Smith sees himself, in his own words, "…playing with real estate." He finds the Real Estate system quite interesting and would like to learn more about it. This prospect is currently quite far away from Mr. Smith. An event closer in the future is his retirement, being that he is dated to retire in about four years. Mr. Smith is an incredible teacher on campus who is always ready to help students learn.
About the Contributor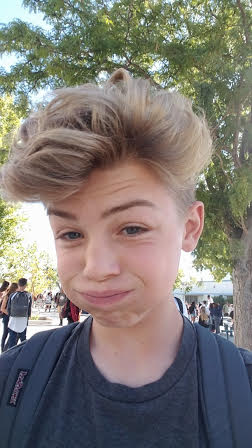 Taylor Lowe, Staff Writer
Hello! My name is Taylor Lowe. This is my first year in journalism. I am very excited to make new friends, as well as new memories. I joined journalism...