Angela Zhang Profile
Angela Zhang is a senior at Quartz Hill High School. Since she has been in ASB for all four years, there is no surprise that she became senior class president. As the senior class president, Angela has taken the lead preparing senior activities such as Senior Sunset, Homecoming, Senior Assembly, movie nights, and much more. Not only is she highly involved in ASB, but she also partakes in many clubs around the school. She is the president of American Cancer Society, the Vice President of the Multicultural Club, the Vice President of the California Scholarship Federation, and the president of her own club, Society of Women Engineers.
Besides managing her own club, Angela also works two part time jobs every week. She has an internship at Lockheed Martin and she works at the AV Twisters Gymnastics Academy as a competition team coach. At the former job, she works in the Conceptual Design Department, where she is able to express her passions for aerospace engineering.  Angela also works on designing fighter jets on a CAD program called Catia, which is programmed on MatLab. Not only that, but she also is researching aerodynamics using a program called Vorlax. "This is where I model a fighter on a 2D plane to stimulate the air flow to find the force of each square part," Angela explained. Her internship at Lockheed averages out to about 12 hours per week. In addition, Angela coaches girls from ages 6-16 at a competitive level. This alone is about three to six hours per week. Clearly, Angela is hard-working and is dedicated to all of her jobs. She also stated that she often helps her parents with the family business. She helps out as a waitress and hostess at Tokyo Steak.

Before Angela worked, she played tennis for the school. She was on the varsity team for all three of her years playing. She was ranked third for the doubles team freshman year, second for the doubles team sophomore year,  and second as a singles player her junior year. She was even ranked second in Singles Golden League. Although she did stop playing tennis because of her jobs, she still manages to train as a gymnastics coach.
Angela's talents have helped her get into Purdue University on a scholarship.  She will be majoring in aerospace engineering with a minor in aerospace technologies. Angela stated, "In addition to pursuing my education in aerospace, I look forward to continuing the Society of Women Engineers, and join the American Institute Aeronautics and Astronautics (AIAA) student group, while obtaining my pilots license with the airport on campus." She also wants to specialize in aeronautical engineering with focus in the commercial aircraft industry so she can one day become a flight test engineer at Boeing.
Angela is graduating in the Class of 2018 and she aims to achieve even more before she moves on. She has already left her mark at school by starting a club that helps girls around the school interested in being engineers, but that's not all she wants to do. She said, "Before I graduate, I'm trying to pack as many senior events as possible to graduate as a very involved senior class. I also want to plan a drive-in movie night for senior and juniors, while starting my pilots license."
About the Contributor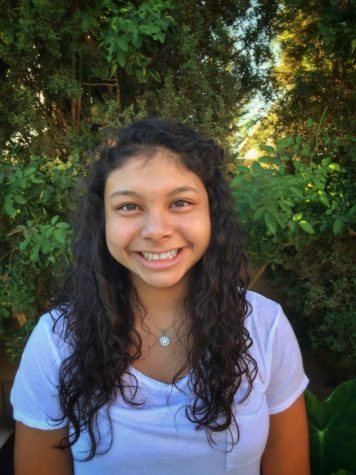 Jennifer Quijada, Staff Photographer
Hi, I'm Jen and I love to paint, play the piano, and take photos (obviously). My life isn't that interesting so that's all I'm saying.