New Apple Gear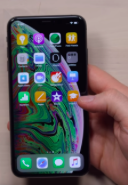 Apple has officially released a new range of iPhone models for 2018. Such models include the iPhone XS, XS Max, XR, and a new Apple Watch. All of these phones include some upgrades from the iPhone X, released on November 3 of 2017, such as a larger display, a better camera, and much more.  
The iPhone XS Max costs about $1,099 and features the largest display on the iPhone thus far. The iPhone XS Max has a 6.5-inch display, bigger than that of the iPhone 8+, and a slightly smaller body. However, the XS Max does not include a quick charging power brick in the box like various Android devices, requiring a separate purchase. Additionally, the XS Max has a dual lens that is larger and has a deeper wide angle, unlike any other camera on the previous iPhones. For the display, the XS Max has a vibrant OLED display.
The iPhone XS costs about $999 and has the strongest glass display for any iPhone so far. Along with the XS Max, the XS also has a bigger, wide-angle camera sensor. Smart HDR on the iPhone XS makes for a better image that accentuates both shadow and highlight detail. If you take a portrait mode photo, you can also adjust the depth of field in post on an XS. Another new feature on the XS is the ability to record stereo directly from the phone while recording and play it back.
The third new iPhone is the iPhone XR, which ranges around $749. The iPhone XR is the budget version of the XS Max and the XS. The XR features a 6.1-inch screen, a 1792 x 828-pixel resolution for a 326 pixel per inch density. It shares the same camera and Face ID system as the iPhone XS.
A new Apple Watch has also been released along with the three new iPhones. There are many upgrades that the Series 4 Apple Watch offers. It is thinner with 30% larger display and provides more information with richer detail. The hardware and software combine to define a very new and truly integrated singular design. In addition to an optical heart sensor, there is a new Apple-designed electrical heart sensor that allows you to take an electrocardiogram to share with your doctor.