Wrestling: Start of the Season!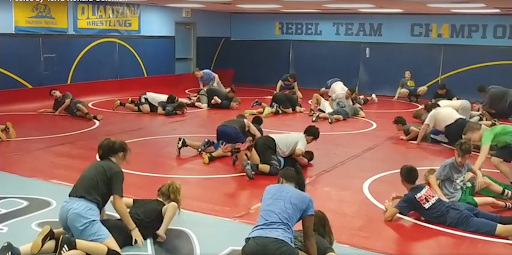 Hang on for a minute...we're trying to find some more stories you might like.
With football and girls' volleyball coming to a close, the season of winter sports is now upon the students of Quartz Hill High School. This means basketball, soccer, and wrestling as far as the eye can see up until spring. Of the three sports, wrestling is the first one to start this season with the first league meet landing on Wednesday, November 14, during which the team will be facing off against Eastside at Quartz Hill. Although league meets start in November, our Quartz Hill wrestlers have been putting in blood, sweat, and tears since mid-August. This has hopefully given them time to develop advanced techniques and unbreakable endurance, the ingredients to Quartz Hill's past 26 league titles.
On the back wall of the wrestling room, the coaches have recently painted an everyday reminder for the wrestlers. The sketch reads: "Rebel Team Champions." Although this may seem like a normal statement, numeronyms are scattered throughout this message among the letters to form the numbers one and fourteen. This roughly means "one team, 14 champions." The fourteen is representative of the 14 weight classes of high school wrestling that are as follows: 106, 113, 120, 126, 132, 138, 145, 152, 160, 170, 182, 195, 220 and 285 pounds. For a school to be victorious in all 14 classes and be an uncontested champion, it takes hard work and diligence. The fact that Quartz Hill holds this title sends a message of absolute Rebel domination on the mat.
In order to keep the players in shape and continue their golden streak, the coaches are putting the wrestlers through intense training composed of heavy conditioning and drill works. During these practices, the heaters are turned on, leaving the wrestles dripping with sweat, often causing the players to lose multiple pounds at practice. This five-day-a-week routine has become standard to wrestler, as they are taught to fight through the pain with determination and power.
For a walkthrough before the following competitive tournaments, a scrimmage called Blue and Gold meet is held every year. Blue and Gold revolves around two teams: team blue and team gold, which is the QH wrestling team divided evenly based on weight. The opposing groups are placed against one another in a standard tournament format. This series took place on Friday, November 9th in the small gym at 6 o'clock. This tournament helps the coach gauge which wrestlers they will choose to fill the 14 varsity spots. As it currently stands, there will be 28 tournaments this season, some being out of town varsity-only meets, others being jv-only jamborees, and still others being full team meets. Hopefully, the heavy training shows on the 14th when Quartz Hill faces Eastside at Quartz Hill. Go REBELS!