The Antelope Valley's Burgeoning Art Scene
The Antelope Valley has always been in the shadow of Los Angeles. Parents commute south every day and teenagers spend their weekends in shopping areas like Third Street Promenade in Santa Monica and Westfield Mall in Century City. The only way to see fine art, be it in a museum, art gallery, or performance hall, is to drive sixty miles south. For a long time, this standard has been accepted. How could any small town compete with the media capital of the world?
This hasn't always been the case, however. In fact, Angelenos used to flock north to escape an ever-growing metropolitan life in search of a space to create art. Llano del Rio, the Antelope Valley's famed former Socialist commune, once housed a community of artists. Aldous Huxley, author of Brave New World, lived in Llano and even wrote a children's book about the area titled "The Crows of Pearblossom." Movie stars retreated to sprawling ranches before tract homes overtook the rolling hills. Judy Garland and Frank Zappa were residents of Lancaster during their childhoods.
Now, the Antelope Valley is beginning to transform from a sleepy suburban community to an artists' haven once again. Americans by the masses are reversing the exodus to the suburbs that had happened only 70 years before. Cities are condensing and rent is soaring with gentrification, a phenomenon in which wealthy residents move in and "beautify" previously lower-class neighborhoods, increasing land values and making it too expensive for the original inhabitants to remain in their homes. Starving artists have no place to live in Los Angeles; instead, they are forced to live further and further from the city, which has one of the highest average rents in the country. The Antelope Valley, with its relatively low rents and revived downtown district, has begun to draw young artists that are in search of an affordable place to live nearby to the world's entertainment capital. A monthly rent payment of $1,500 is enough for a prospective resident of a studio apartment in an up-and-coming part of town in Los Angeles, whereas it could rent a small house in Lancaster's Boulevard District.
The allure of the desert draws many to the area as well. The flat expanse of the desert framed by snow-capped mountains offers a relief to the cramped conditions of the city and an inspiration to create art. Fiery sunsets, orange poppies, and clear nights create a "desert mystique," something that attracted Angelenos to Palm Springs for years until rents became too high there as well.
Artists are now taking advantage of the Antelope Valley's vast expanse of open land by creating artist communities of their own. Francois Pied, a Venice-based artist, detailed in an article for Curbed LA his new artists' collective, aptly named 5 Acres after the size of the property that it resides on. The property gives artists room to create projects that would be largely inaccessible to them in the city, such as wood and metalworking. In addition to that, the space gives artists a place to meet and hold events without the financial burden of rental spaces and permits to weigh them down. Many artists, however, are discouraged from visiting the Antelope Valley due to its bad reputation. According to Curbed LA, the AV is "known for its conservative values, tract homes, and nearby Air Force base… [It's] not exactly the kind of environment that usually attracts creative young people." 5 Acres is just beginning, but is a significant effort made by the artists of Los Angeles to change the negative attitude towards the Antelope Valley.
Soon, the Antelope Valley will be the next big artists' haven. Hopefully, there will be a large culture supporting artistic expression in the near future. Art will pervade the suburban landscape and murals declaring "Keep the AV Weird" will sprout. Angelenos and global artists can find easily-accessible inspiration in the desert expanse of the Antelope Valley.
About the Contributor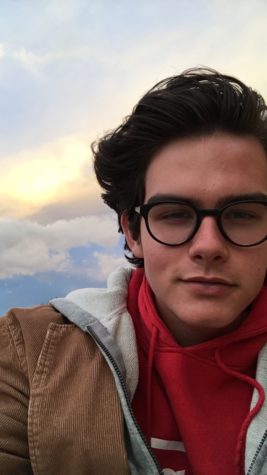 Tyler Sinness, Staff Writer
Hi! I'm Tyler. I spend my free time reading, running, and writing. You can often find me interning for local politics or organizing events around town....