Club Rush…Again?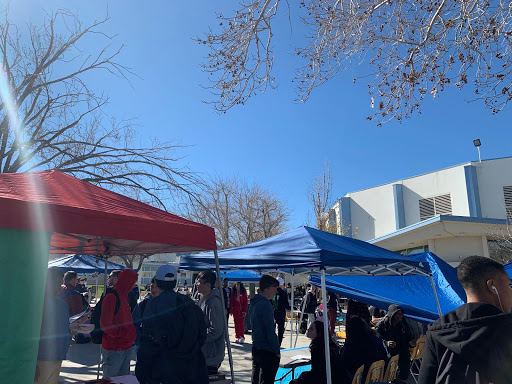 Hang on for a minute...we're trying to find some more stories you might like.
Club Rush–an event that takes place in the main quad in front of the Big Gym–happens once every semester. This bi-annual event may seem redundant, and even unnecessary; however, it is an opportunity for clubs to gain more members and for students to get more involved.
QHHS student Alyssa Mak mentioned some concerns on the Club Rush article published during the first semester. She voiced her opinion on the density of Club Rush and the difficulty in navigating particular clubs. As a result, Mak chose to not participate in Club Rush this time around, saying that "it is just not a pleasant experience."
One of the vice presidents of Multicultural Club at QHHS, Hanna Hoang, brought up a different concern in relation to Club Rush. She was worried that the majority of students only "sign up for the sake of signing up" when, in actuality, they do not become an involved member of the club. She also said that many students probably only sign up to get the free handouts clubs tend to offer.
Hoang suggests a more intimate and meaningful approach to Club Rush in which every club had the chance to "present what their club was about," thus giving students a "real understanding" of what the club offers. That way, potential members know what they are getting into when they sign up for a club.
In addition to her discontentment on the process of Club Rush, she also believed that an event like this was unnecessary in the second half of the year, saying that "By the second semester, everyone is settled in already." This far into the school year, a majority of students are already accustomed to their school life and have figured out a routine with their interests and extracurriculars included. Many are not willing to shake up their steady schedule. Despite claiming that a second Club Rush is "a little strange," Hoang was still ready to make the most out of every chance to promote her clubs.
While there are fewer students that come out for the second Club Rush, Hoang is still a strong supporter of the activity. She says the second Club Rush can act as a "refresher" and give those who did not have an opportunity at the beginning of the year to join clubs. For Hoang and other club officers, events that highlight the various opportunities on campus are essential to gaining attention for potential members.
On-campus events like these are beneficial to everyone, students and clubs alike. Peers are able to broaden their view of the school and get information on new opportunities offered in extracurricular activities. As for the clubs, events such as Club Rush allow them to gain some well-deserved recognition and possibly some new members as well.