Elections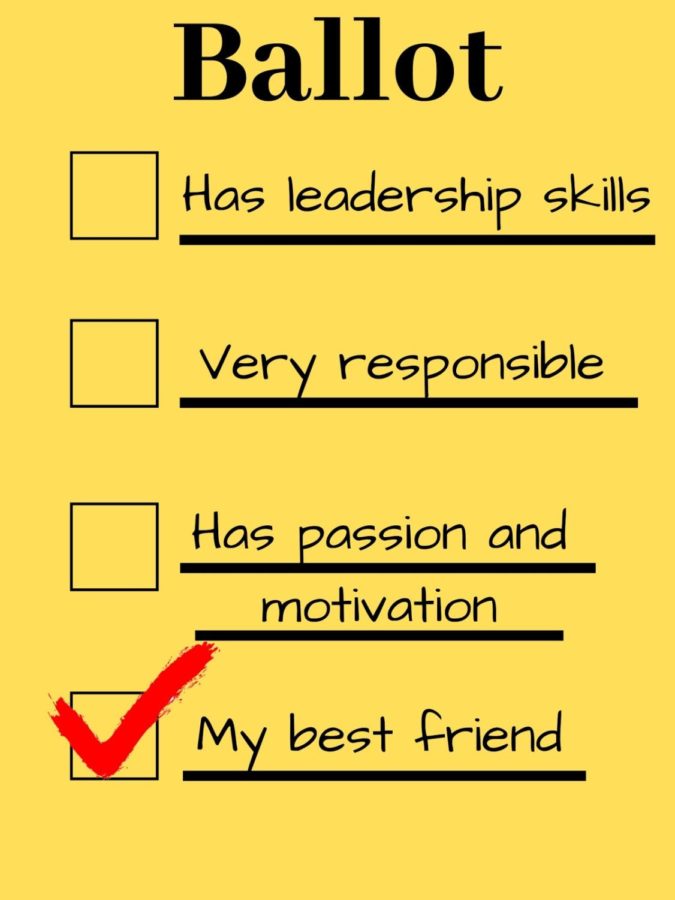 With the end of the school year approaching, numerous clubs are holding their elections for officer positions in the 2019-2020 school year. As a result, former officers are forced to step down and hand over their titles to the respective winners of club elections. However, these elections do not come without bias, manipulation, and unfulfilled promises.
The election process is competitive for many clubs. Several students fight to hold a position in a club while some students aim to gain as many officer positions as possible to boost their college applications in what is dubbed as "club clout." Others, however, are passionate for the clubs they are in and want to make a positive change. Despite this, for a majority of clubs, the elections are essentially a popularity vote. Whoever has the most friends in that club is likely to win, as oftentimes, friends vote for friends and ignore the qualifications of other candidates. This does not come without ramifications, as most of the time, the winner is not fit for their position.
With so many clubs at Quartz Hill High School, the election process for each club is different. Key Club, a very active club on campus, held their elections on two separate days using secret (anonymous) ballots, with the first day being for President and Secretary, and the second day for Vice President, Treasurer, and Senators. California Scholarship Federation, Model United Nations, and Drama Club all held their elections in a similar fashion, though the voting period was limited to one day. In Yearbook and Journalism, officers are not designated as the typical Secretary, Treasurer, etc. Instead, students hold various editor positions, with the Editor-in-Chief essentially acting as the club President.
Another popular election method is by holding the event online. VEX Robotics carried out their club elections over Discord, and Multicultural's were done using Google Forms. According to an anonymous source, "The Google form method of voting is my favorite method so far. It was simple and very fast. It eliminated the problem of people voting when they are not a part of the club and it produced election results quickly." Invalid votes are a serious issue in many clubs. During the CSF elections, no prior screening was done to eliminate club members who had not paid their dues, and thus, they were able to stay during the voting process.  With over 75 people in the classroom, it was difficult to effectively screen individuals, inevitably resulting in some technically invalid votes. Model United Nations chose to screen individuals at the door, preventing those who had not attended enough meetings from entering.
During most club elections, candidates will perform a speech in front of those who can vote, advocating for themselves. Some individuals may ignore this speech and automatically vote for their friends, but those who have no clear bias will listen carefully to determine the best candidate for the position. As a result, speeches can either make or break a candidate. Oftentimes, contenders will go up in front of their peers and, more or less, brag, listing all their qualifications that have little substance and consequently, little impact on the audience. The majority of the time, this is not effective for the candidate; in fact, it tends to deter voters.
With club elections comes the inevitable drama of it all. CSF elections were no exception, as votes were originally miscounted, resulting in the former President of the club Yejin Ban, announcing Alysha Dijamco as CSF President, when in fact Dorsa Bahmani had won. The error was a miscount of a single vote wherefore the club advisor, Mr. Jenison, chose to award Dijamco the position of Co-Vice President alongside Jahninna Alegre. MUN's elections had their fair share of drama as well: as candidates desperately attempted to gain votes in any way possible, tension grew between all members of the club. VEX Robotics elections were deemed corrupt, as votes were counted by individuals who were running for a position, opening up the opportunity for manipulation of the votes. Furthermore, the President at the time attempted to close elections before the stated closing time as well as before all individuals had voted.
Overall, club elections are a stressful time for everyone involved. With multiple individuals fighting for one club position, the desperate desire to win becomes very evident, leading some individuals to do whatever is possible. Whether that is ethical or not, whether the results justify the means, is up to you to decide.