The Quartz Hill Girls' Volleyball Team: What We Can Expect This Year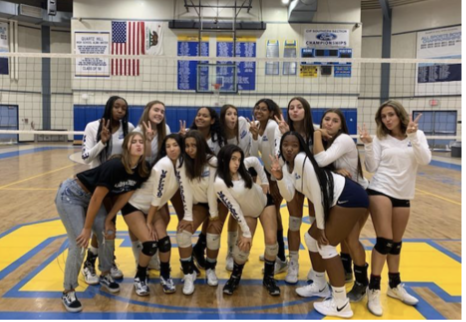 Last year, as many of you know, the incredible QHHS girls' volleyball team won CIF championships. It was arguably the greatest sports moment of the previous school year, which leaves high hopes for the girls to perform well this year. But, will the girls actually pull it off this year yet again? Can they top their amazing 2018-2019 season? Well, from what we know so far, it is likely that the team may not only seize another win this year, but could also come back stronger than ever before. 
According to varsity player Jada Johnson, the team learned a lot from last year's loss to Eastside High, even though it was a minor one. She states, "Last year was, for the most part, really successful. We were undefeated until we lost to Eastside High School. Our loss against Eastside really taught us a variety of things. First of all, we needed to communicate a lot more on the court. Secondly, we need to trust each other."
The varsity girls have also dominated in the scrimmages they have played thus far. The girls beat Paraclete High in a scrimmage last Thursday and plan to continue the winning streak throughout the season. Their first game was at Canyon High School.
With these impressive successes, it becomes important to appreciate how their devotion to the game have affected them as individuals. Jada Johnson reportedly states, "This year, I'm playing Varsity as a sophomore, and it's very different. Varsity is much more competitive and practices are much faster than before. My teammates are all amazing athletes and help out if they see that someone needs help. We are all very dedicated and enjoy the sport very much. I can definitely speak for the other girls [when I say that]." She adds, "I truly believe this season will be a success because of all the hard work we put in."
While the team can be very competitive, it is important to realize how amazing their chemistry is. The relationships that the team has built among one another cannot only contribute to performance on the court, but also how well they develop as students. While the life of an athlete can be tough, knowing they have support is a healthy environment that can help the students' growth. In all, with their dedication to the sport, we can see how the volleyball team is not just a team, but a family dedicated to the game.
Through hard work and dedication, the girls' volleyball team has clasped itself a truly promising future, and we can expect a lot from them this year. Be sure to come to the home games on August 29th, September 4th, September 17th and 19th, and many more!