The Woman Who Destroyed American Immigration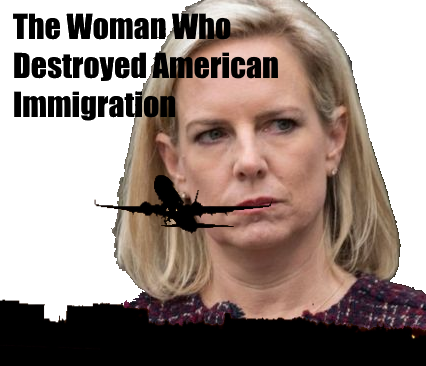 "Shame! Shame! Shame!" The shouting reverberated through a Washington D.C. establishment, on a summer night in 2018. Protesters, fraught with anger, directed their attacks at one woman: Kirstjen Nielsen. "If kids don't eat in peace, you don't eat in peace," they screamed at her (Mervosh). Nielsen had been dining at a Mexican restaurant, a fact that would carry no irony to those who did not know her work. She eventually bowed to pressure and sheepishly left in a car that had been waiting for her. 
A name seemingly forgotten, Nielsen has since become overshadowed by the chaos occurring in the nation's capital. Hardly over a year ago, though, she was the face of one of the most divisive and condemned actions committed under the Trump Presidency. As Secretary of Homeland Security, Kirstjen Nielsen enforced a policy, at the behest of Donald Trump, of separating children from families who sought asylum on the US-Mexican border.
Her decision inflamed America's immigration crisis and triggered repercussions that linger to this day.
She was not the obvious choice for the job. Nielsen had been widely criticized for her role in the Bush Administration's response to Hurricane Katrina, or lack thereof. Congressional Democrats feared that she would repeat such failures as she accepted a position to lead a Department of Homeland Security tasked with handling the aftermath of Hurricane Maria (Miroff).
Her nomination as the executive of Homeland Security also came as a surprise to many of her colleagues. President Trump decided to choose her over the acting secretary, the person normally selected, despite her lack of experience (Swan). She had only previously served as chief of staff to DHS Secretary John Kelly. Nonetheless, the White House thrust her into a job that entailed running an agency of 200,000 people (Kutner).
After her confirmation in December of 2017, she proved herself as a loyal Trump lackey. Defending her boss' actions at all times, she made headlines after media outlets reported that the President had referred to El Salvador, Haiti, and African nations as "shithole countries" in a private meeting. Secretary Nielsen claimed she was ignorant to the comments in a hearing before the Senate despite being in attendance. It was also reported that Donald Trump preferred more immigrants from Norway. When pressed in that same hearing whether Norway was a predominantly white country, she responded "I actually don't know that." A cover to protect the President from allegations of racism (Chait).
In April 2018, Attorney General Jeff Sessions announced a new immigration policy dictated by the White House. This "zero-tolerance" policy would use an American statute that criminalizes undocumented crossings of the border, which is considered a misdemeanor. It allows for the persecution and detainment of migrants suspected of "criminal offenses" in DHS custody. However, it's jurisdiction would be extended to include those seeking asylum, an unprecedented action (Rizzo). As such, this statute then be used as grounds for separating children from their parents, who the government considers criminals and potentially harmful to adolescents. Although in actuality, this policy was meant to act as a deterrent to keep more migrants from coming to the US. 
Since the end of the Obama Administration, immigration has increased from the Central American countries of El Salvador, Guatemala, and Honduras; collectively known as the Northern Triangle region. Political unrest and gang violence have been the greatest factors in pushing thousands to leave their countries to seek refuge elsewhere. United States law allows for asylum to be provided to those with credible claims. However, even before the creation of a zero-tolerance policy, the Trump Administration made moves to erode asylum protections for Central Americans (Rizzo).
This policy would be implemented officially a month later after approval by Secretary Nielsen. The issue was not met with much initial opposition besides fears from Congress of the executive branch's abuse of the immigration system. It was not until reports about the disastrous conditions and obstacles that migrants experienced surfaced, that public opinion swiftly changed.
In June, information was released that revealed that over 2,000 migrant children had been separated from their parents under this new DHS policy since May with no plans for reunification. They were held in what many called "cages" and slept with space blankets, sheets of heat-reflective aluminum often used by astronauts. Outrage ensued, and Democrats began calling for Nielsen's to step down. Members in both chambers of Congress, including then-House Minority Leader Nancy Pelosi and prospective presidential candidates, demanded that she resign (Cranley).
Kirstjen Nielsen tried to contain the political fallout. She tweeted on June 17, "We do not have a policy of separating families at the border. Period." This was notwithstanding the fact that she told NPR reporters the opposite in May (Rizzo). She defended her department's actions against accusations of child abuse. She claimed to have visited the detainment facilities and witnessed first hand the appropriate treatment of migrant children (Liptak and Collins). 
Nielsen repeatedly told reporters falsely that the policy was not meant as a deterrent even though the attorney general and the president said it was in fact created for that purpose. She went on to blame Democrats for being weak on the border and continued to deny the existence of family separation despite being it's most fervent defender (Inskeep and Liasson). This was all the while children were stripped from their mothers and fathers through no fault of their own.
The public pressure proved to be too strong, however. Two days after being publicly shamed at a Mexican restaurant, Secretary Nielsen stood by President Trump on June 21, 2018 as he signed an executive order to stop the separation of families at the border. Leading up to that moment, the president had reportedly been frustrated with the backlash his administration faced over the issue and did not think that Nielsen's defences were strong enough. Although, after ending his zero-tolerance policy he told her "Great job" while in the oval office in front of reporters (Associated Press). 
 The scrutiny remained as journalists continued to uncover more facts about what occurred at the border in May and June of 2018. Democrats in Congress also struggled to make sense of what had happened. During a Congressional hearing in December, Representative Luis Gutierrez criticized Kirstjen Nielsen, telling her, "Shame on everybody that separates children and allows them to stay at the other side of the border fearing death, fearing hunger, fearing sickness" (Clark). Many wondered whether she would remain in her job or if she would resign. 
On April 7, 2019, Nielsen chose resignation. "I hope that the next secretary will have the support of Congress and the courts in fixing the laws which have impeded our ability to fully secure America's borders," she wrote in her final letter to President Trump as head of the Department of Homeland Security (Kanno-Youngs, Zolan, et al.). Democrats widely cheered her departure from the administration but many realized the damage had already been done. Officials estimated that it would take nearly two years or more to reunite all separated children with their parents and children had already died in immigration custody (Cooke). More fundamentally, Nielsen dismantantled a core American tenant that anyone can come to the United States and create a new life for themselves. 
Her resignation led to many editorial and opinion pieces from major news outlets condemning her disastrous tenure. Activists demanded that she be blacklisted from any reputable institutions and there was a clear consensus that her political career was over. In accepting Donald Trump's appointment as US Secretary of Homeland Security, Kirstjen Nielsen embarked on a crusade that would not only ravage her life but the lives of thousands of children and families who will never know her name.
About the Contributor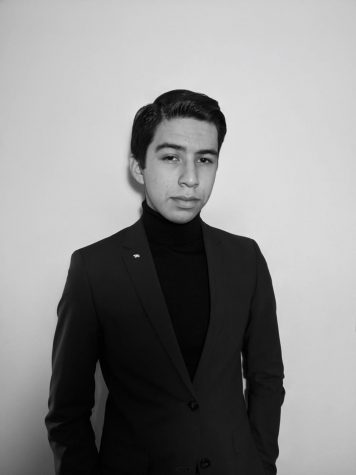 Antonio Caceres, Staff Writer
My name is Antonio Caceres and I'm currently a senior at Quartz Hill High School. I've always loved to write and my interest in journalism is an extension...