Boy's Varsity Soccer – Tragedy to Triumph?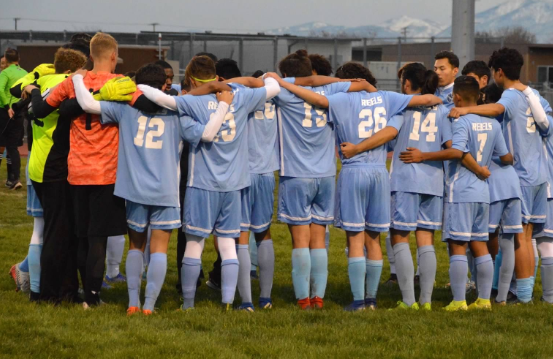 The boy's Varsity and Junior Varsity Soccer teams are nearing their Golden League seasons, with their first games taking place on December 11th. The Varsity team is looking to do better than last year, as they finished in third place for Golden League with a record of 6-6-2, as a Division 3 school. They sadly lost in the first round of CIF due to a tie-breaking header in the last minute of the game. This year, with the addition of two new superstars as well as their demotion to a Division 5 school, it is likely they will have a better season.
The boys had their first scrimmage against Hart High School on Tuesday, December 3rd, where they, unfortunately, were defeated 1-3. It is certainly clear that the boys have room for improvement. According to Varsity forward Jason Utama, the team has the raw talent but are weak on communication and chemistry, two vital factors for any soccer team.
However, we must not lose hope for the team, considering it was just a scrimmage and that the boys still have lots to learn. With the coaching of Robert Gonzalez, the team is most certainly going to improve and get better and better. Robert Gonzalez, also known as Coach Rob, has been coaching at Quartz Hill for four years now and led the team to 2nd place in CIF during his first year of coaching. He has a lot of potential and definitely aims only for the best with his boys. Jason Utama states, "We know he's a loving coach that helps us grow individually on and off the pitch. Knowing soccer is his second nature, and everyone respects the time and effort he's put into it."
Some strengths of the team include their offense, which has gained the likes of two statewide recognized forwards. The dynamic duo in the forward positions of Kaylan Williams and Victor Jimenez. Both players play together in the soccer club "Cal Elite SC," where they led their team to win the nationally-recognized State Cup. Both of them are seniors and have bright futures ahead of them for this upcoming season as they look to dominate in the high school scene, just as much as they did in their club teams.
In all, through hard work and dedication, the boys have a chance to do much better than they did last season. Jason Utama states, "Each player is committed and tries their best each and every practice, pushing each other to become better." With the addition of the offensive dynamic duo as well as the coaching of Coach Rob, the boys are certain for success this upcoming season.