The Goldbergs Review
Created by Adam F. Goldberg, ABC's "The Goldbergs" is an American sitcom that revolves around a normal, yet dysfunctional family in the '80s. Created September 24, 2013, the soon-to-be-seven-year-old show was and still is a success, still airing fresh episodes, and most recently renewed for their seventh season.
To sum up the overall mood, The Goldbergs is one of those slice of life shows that you can easily play in the background while working. Each episode is only twenty minutes long and has separate plots, making it ideal for any occasion. You can binge it, watch it while folding laundry, pretty much anytime and anywhere. It's a really flexible show in the way the storylines are stand-alone. Think of it like the prime-time Disney Channel shows, such as Jessie or Good Luck Charlie. However, the most important way The Goldbergs stands out from those films in how it has an accurate depiction of a family while adding in "Goldberg" elements and comedy. They don't try to create the perfect family, and they aren't scared to include yelling, cursing, and fighting. 
Since Adam Goldberg based the show on real stories from his childhood, the plots can be childish, but also sweet and simple. All the children are in the middle of becoming teens, and so Adam, Erica, and Barry Goldberg have to confront coming-of-age problems: picking fights with their siblings, having to hold a boombox outside someone's house, and much more. On the other hand, Murray and Beverly Goldberg go through the challenges of having to cope with their children growing up. Each episode is still nonetheless wholesome, genuine, and adult Adam narrating the plot adds comfortable humor. Each episode ends with a real-life Goldberg recording that the plot was based on, ultimately tying together fiction with reality.
Furthermore, the chemistry between the characters and casts are well executed, the two most notably loving characters being Beverly and Pops. You can feel that Beverly truly cares for her family, often seen going overboard to protect each one. The relationship between Pops and Adam is incredibly heartwarming as well. Pops is always there to listen to Adam's problems and solve them, take him to the movies, and plainly, be his best friend. 
The only downside is that occasionally certain episodes are slow, but it's very rare. It's not like every other episode is full of laughing all the time, to begin with, but it's a nice past time show that you can depend on. I'm only in the second season, so I can't say for the more recent episodes, but fingers crossed the show wasn't dragged out during the years. 
The Goldbergs is on Hulu; watch it. It's a great coming of age show; 9.5/10.
About the Writer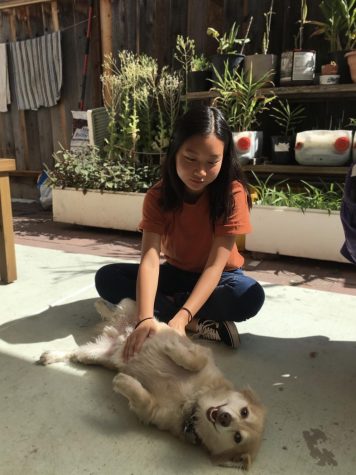 Dinh Duong, Staff Writer
Hi there. My name is Dinh. Outside of Journalism, I play tennis, watch movies, and listen to music. Y'know, usual people stuff. I love snow globes and...