School Sports Amidst a Pandemic
March 19, 2020, was the day Governor Newsom first mandated lockdowns in California due to the coronavirus outbreak. This event caused many places to shut down, including all the schools in the state, leaving the spring sports season cut short. With the pandemic still affecting many, 2020-2021 sports teams have strict guidelines to follow.
The school year's beginning typically kicks off with the fall sports season, which includes football, cross country, and the girls' tennis, volleyball, and golf teams. However, AVUHSD has created three phases for reopening all athletic programs starting this fall. Phase 1 called for gatherings of no more than ten people at a time in any field. Those ten people are considered a pod and must be in the same pod for each workout/meeting. Athletes have to maintain social distancing rules, and all activities need to occur outdoors. Phase 2 and 3 involve slowly increasing the number of students allowed to continue their outdoor activities. This plan would also permit small groups to begin working inside the gyms. These phases were expected to start in July, but unfortunately, they never came to pass due to a "spike" of cases in the summer.
As COVID cases continue to increase, CIF has officially postponed all sports until December 2020 or January 2021. They are continuously monitoring the situation and are creating schedules for possible future games. Yet, as with many activities this year, nothing is set in stone. 
This predicament begs the question of how our teams are handling and adapting to current events. The junior student-athlete, Franco Bella, explains how the Quartz Hill football team has been dealing with the whirlwind COVID-19 has brought. "Coach Vondra has been sending out workouts for us to do, and we hope to be back to phase one soon…but if it does get postponed, we will continue […] working out on our own."
Schools in other states are also trying to figure out how to handle this pandemic. Because schools have had to postpone sports has caused some unrest among their student bodies. Students reacted by organizing protests to have their districts reopen schools and athletics. In contrast, Caroline Toberman, a sophomore on the Quartz Hill women's volleyball team, was more understanding of the situation, "Even though I am pretty disappointed that we didn't get to have tryouts or start our season, I understand the risk…If we refrain from contact sports, the sooner we will hear good news about starting up again."
The performance of our teams are in question since the pandemic has put a halt to their training. Student-athletes are being told by their coaches to continue physical activities, nevertheless. Even so, it is difficult for QHHS coaches to confirm if they are consistently exercising as instructed. While speaking with Samantha Williams, the Quartz Hill JV coach for women's volleyball, she said, "It's not the program that I'm worried about, it's the individual progression of each player that is taking a negative impact caused by this pandemic." To practice in a team sport, it is a given that there should be a team that students can work alongside. Not having the possibility to meet together in person makes it difficult for many athletes to improve their skills. 
COVID-19 has created lots of uncertainty about the future of school sports. No matter what, we hope to see our sports teams come back strong despite the current hardships, whether it be this year or next.
About the Writer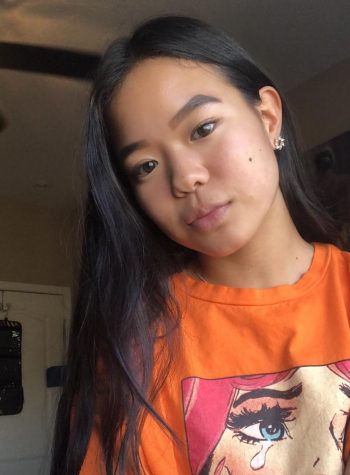 Alexis Menor, Staff Writer
Hi, my name is Alexis Menor. I'm a junior, but this is my first year in Journalism. I hope to learn numerous things about how to improve my writing skills...