Paving the Way
The Democratic Party since the Civil Rights Era has continually been the party of elevating American diversity. While the GOP has scoffed at the need for representation, Democrats see multiculturalism as a tenant to their success. The political party that once belonged to Jefferson and Jackson has continued to be the right side of history after it elevated the first Black and first female presidential nominee. 
With the selection of Kamala Harris for the vice presidency, the United States has taken a step closer to elevating a woman to the head of the executive branch. Many have tried but fallen short from breaking that highest, hardest glass ceiling in American politics. Us children of the 21st century are well acquainted with Hillary Rodham Clinton, and perhaps even know Sarah Palin. However, we have long forgotten the original pioneers; a look back at their trailblazing campaigns can give us a greater understanding of the long fight for gender parity and fair American society.  
Kamala Harris is not the first woman to have been chosen for the vice presidency. An important milestone was achieved when Walter Mondale had chosen Congresswoman Geraldine Ferraro as his running mate in the 1984 presidential election.      
 Ferraro taught at a public school while attending night classes at Fordham Law School. She eventually joined the Queen's District Attorney's Office and gained a reputation as a fierce prosecutor. Geraldine Ferraro won a seat in the House. She managed to remain a powerful advocate for liberal policies despite representing a more conservative district, a skill that made her a rising star in the Democratic Party. When former Vice President Walter Mondale ran for president, he found his perfect partner in the articulate and accomplished Ferraro. 
Women packed the Democratic National Convention floor to watch the first woman ever nominated on a major party ticket speak. "By choosing a woman to run for our nation's second-highest office, you sent a powerful signal to all Americans… If we can do this, we can do anything," Ferraro proclaimed. She faced sexist criticism by commentators, and during her debate with Vice President Bush, she pushed back against him for trying to teach her foreign policy. The Mondale-Ferraro ticket lost what was already an uphill election, but the Congresswoman from Queens secured her place in history.
Kamala Harris was not the first Black woman to seek the White House either. Shirley Chisholm received 430,703 votes in her 1972 crusade for the presidency that brought the daughter of Guyanese and Barbadian immigrants to the forefront of American politics. 
Upon receiving her master's from Columbia University, Chisholm became an educational consultant for the New York municipal government. In 1964, she was elected as the second Black woman in the New York State Assembly. Four years later, when redistricting created a new congressional district in Brooklyn, Chisholm ran and won to make history again as the first Black woman elected to Congress. She was controversial among her colleagues for her openness when discussing national issues, even denouncing the Vietnam War during her first speech in the House.
Shirley Chisholm announced her campaign for president as the first woman, Black or white, to seek the Democratic nomination. She declared, "I am the candidate of the people, and my presence before you symbolizes a new era in American political history." Her platform was radical in every sense of the word; she consistently focused on the inequalities and injustices that poor and minority Americans faced every day. While she only received 152 delegates at the Democratic National Convention, Chisholm gave marginalized groups a voice in power.  
Democrats know that representation matters. Across all different demographics, race, gender, and sexuality; liberals and progressives have made it a point to increase the party's diversity. That's why groups like EMILY's List were started by Democrats — there is a fundamental belief in the value of everyday Americans seeing political leaders that look like them. 
Republicans only know tokenism. During their national convention, they paraded black and brown people into the spotlight for the sole purpose of making the current president appear favorable. Yet the GOP continues to appoint nearly all-white judges, undermine voting rights, and support criminal justice measures that keep minorities suppressed. 
The "diverse" Republicans who spoke, such as Tim Scott and Nikki Haley, do not care about representation for people of color; they care about their own ambition and let themselves be used for political expediency. Nikki Haley is looking to run for president in 2024 and will do anything and everything to appease the base whose support she seeks to command. However, all minority conservatives are willfully ignorant if they think an electorate infatuated with one of the most racist and demagogic men ever to occupy the White House would look twice at an ethic Republican presidential candidate. 
The Democratic Party, on the other hand, has once again proved its commitment to diversity. Vice Presidential Nominee Kamala Harris has made history as the first Black American, first Asian-American, and first woman of color to be nominated on a major party ticket. She currently stands on the shoulders of Geraldine Ferraro and Shirley Chisholm, and countless other women who continually advocated, fought and rioted for an equitable United States. 
A trailblazer in her own right, Harris is deeply cognizant of her historic candidacy. She often quotes her mother when discussing paving the way for the women and people of color who will follow her, "My mother had a saying: 'Kamala, you may be the first to do many things, but make sure you're not the last.' " The Democratic Party will continue to pave the way for more underrepresented Americans to have a seat at the table.
About the Writer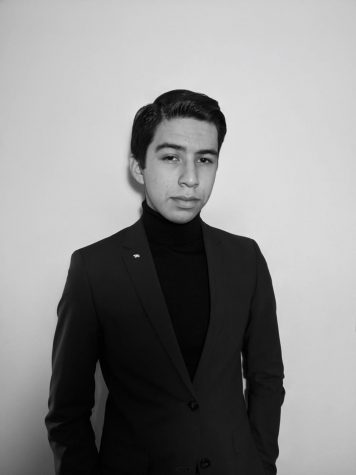 Antonio Caceres, Staff Writer
My name is Antonio Caceres and I'm currently a senior at Quartz Hill High School. I've always loved to write and my interest in journalism is an extension...