Black Lives Activism in the NBA
On August 26th, the Milwaukee Bucks chose to postpone their game against the Orlando Magic in response to the shooting of Jacob Blake in Kenosha, Wisconsin. This movement resulted in the postponement of two other games – Los Angeles Lakers vs. Portland Blazers and Houston Rockets vs. Oklahoma City Thunder – which took place over the weekend instead. In a statement, Milwaukee Bucks players announced, "Despite the overwhelming plea for change, there has been no action. So our focus today cannot be on basketball."
These changes inspired similar events in other sports, including the Miami Marlins and New York Mets, as well as the Milwaukee Brewers and Cincinnati Reds silently leaving the field in Major League Baseball. Similar actions were taken in the MLS and NFL, as they both postponed the games they had scheduled for the 26th. Tennis star Naomi Osaka opted against playing her semifinal match, stating, "I don't expect anything drastic to happen with me not playing, but if I can get a conversation started in a majority white sport, I consider that a step in the right direction."
Famous basketball player Lebron James explained the seriousness of the issue, stating, "When you're Black, it's not a movement. It's a lifestyle. We sit here and say it's a movement, though how long is this movement going to last? 'Don't stop the movement.' No, this is a walk of life."
The Black Lives Matter movement in the NBA and other sports has been a recurring event since the beginning of the campaign following George Floyd's murder. Several athletes and teams have used their platforms to advocate for Black Rights. For instance, during the NBA's games, athletes had the choice to display any statement on the back of their jerseys, such as "Say Her Name" in honor of Breonna Taylor. Given that the NBA is the most racially diverse of the four major leagues in the United States, and the NBA has the greatest number of Black athletes out of these leagues, it is no surprise that they are advocates for social justice in such difficult times.
In response to the racial conflict, the NBA has chosen to utilize their stadiums as voting sites for the upcoming election on November 3. The Milwaukee Bucks further stated, "We encourage all citizens to educate themselves, take peaceful and responsible action and remember to vote on November 3." They hope to inspire change by encouraging more people to vote.
About the Writer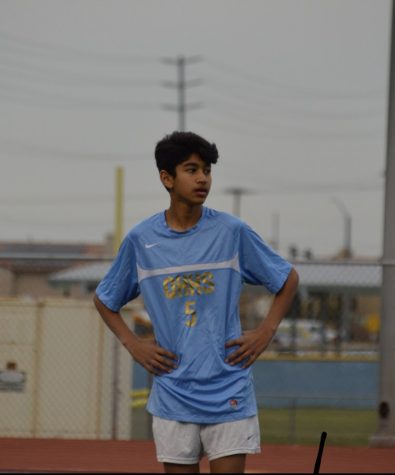 Nilesh Kumar, Staff Writer
Hi there! I am Nilesh Kumar, a sophomore and writer for the sports section of The Ubiquity. Most teachers and staff know me, I'm another member of the...