Travis Scott x McDonald's Review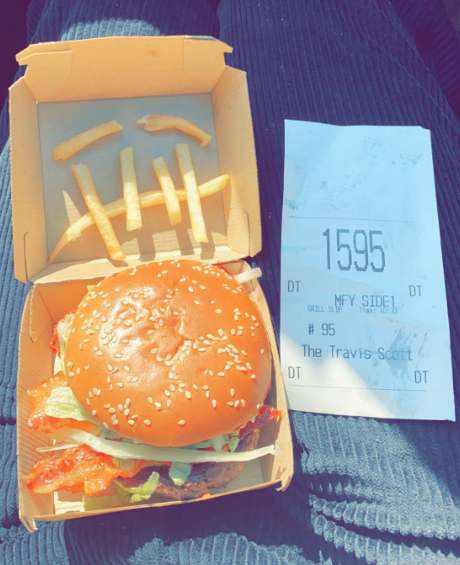 In September 2020, McDonald's and the famous American hip-hop artist Travis Scott announced on social media that they would be releasing a Travis Scott Meal. As expected, the internet went berserk over this collaboration. People created new memes and remixes of the song that played over the advertisement. Everyone was very excited about this collaboration, and not only because of the hype created by social media but also due to the price. 
Most celebrity collaborations end up being too expensive for the general public to afford or so exclusive that only a select few have the privilege of obtaining the product. However, this particular meal was only $6, a bargain considering the order. The meal is Travis Scott's typical McDonald's order: a quarter pounder with cheese, bacon, and lettuce, a medium order of fries with barbeque sauce, a Sprite, and, sadly, no toy. Typically, if this order were customized to order, it would cost around $12, almost double the combo meal price.
This collaboration might not seem important at first; however, this collaboration is crucial to the relationship between celebrities and large businesses and corporations such as McDonald's. This was the first-ever celebrity collaboration in America since the McJordan in 1992. Just like past projects, this collaboration was also reasonably successful. McDonald's stated that there would be a charitable event coming soon regarding this meal. Some business experts also say that McDonald's revenue drastically increased, and they recovered a significant chunk of the damage they suffered due to COVID-19 from this meal. However, the Travis Scott burger was not the only thing that kept them thriving. McDonald's also released limited-edition merchandise and apparel that die-hard Travis Scott fans bought at rapid speeds and for very high prices. 
To find out what the hype was about this meal, I decided to try it out for myself. Overall, the meal was delicious. It was a regular McDonald's order with some good additions to the Quarter Pounder. The bacon and the lettuce most definitely elevated the taste of the burger, and, of course, the classic McDonald's fries are never a disappointment. The fries and Sprite combination improved the overall experience of the meal, as they both complemented each other. The taste of the salty, crunchy fries and a refreshing sip of Sprite to wash it down is more than enough to lift customers' spirits. The barbeque sauce, however, did not exactly fit in with the meal. It felt like it was just a random condiment that was picked to throw in there to satisfy customers; the taste was nothing too exciting. 
I was also surprised by how filling a $6 meal from McDonald's could be. It is, for sure, a great, cost-effective meal to fill your stomach for a long road trip. The Travis Scott Combo meal is worth a try, but it is certainly nothing too unique or different from the usual McDonald's meals.